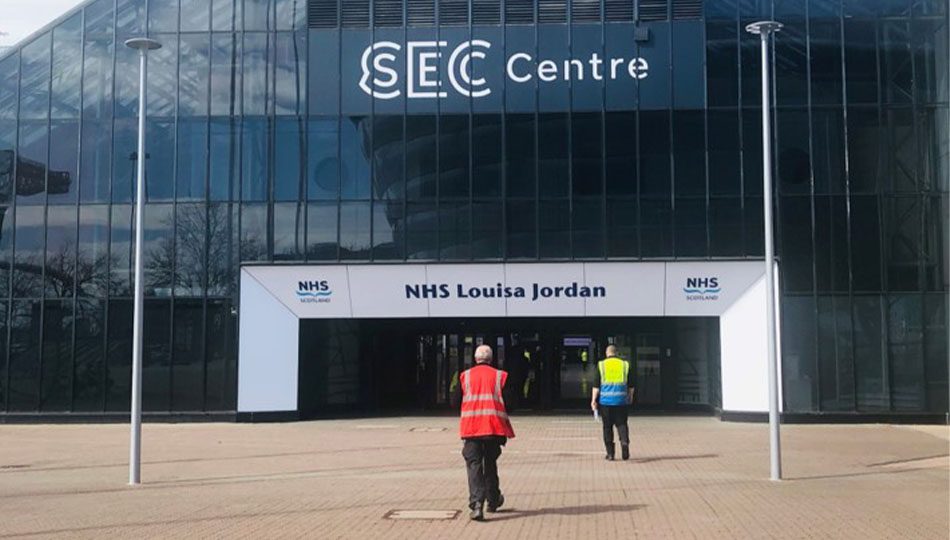 In a year generally punctuated by doleful news reports as unwelcome as a single sounding of the Lutine Bell, the recent breakthrough from Pfizer (and latterly, Moderna) offers a glimmer of light at the end of 2020's seemingly endless tunnel. The successful development of a Covid-19 vaccine was always the going to the catalyst that permitted us to imagine a return to the sort of normality that seemed unfathomable just a few months ago. The freedom to meet others unrelated to us without checking our phones to ensure we aren't inadvertently breaking the law that week is one many might've been forgiven for thinking we'd lost forever.
As the world's pharmaceutical organisations and epidemiologists respond to the challenges of the next decade, our infrastructure needs to be able to accommodate the types of rapid response illustrated by the NHS Louisa Jordan Hospital; a 1000+ bed facility designed and delivered in only 23 days. Whilst its shell – the halls of the SEC complex in Glasgow – existed already, their speedy adaptation offers a persuasive concept of future resilience. Once bouyant sectors are now struggling to identify the short to mid-term futures necessary for strategic business planning. Buildings lie empty; even ones that were recently completed before the pandemic changed the way we all worked, lived and communicated with each other. That often-misused quality, adaptability, is becoming the most valuable to us.
The NHS Louisa Jordan Hospital
On 11 March 2020, COVID-19 was classified by the World Health Organisation as a global pandemic. The urgent international response resulted in governments around the world introducing a series of measures to protect public health, to reduce the peak of the infection and to increase the capacity of existing medical infrastructure. As part of the Scottish Government's response to the COVID-19 pandemic a temporary hospital was considered, to be delivered by the Scottish Government in conjunction with NHS National Services Scotland (NHSNSS).
The resultant hospital – known as the NHS Louisa Jordan Hospital – is a step-down facility for patients recovering from COVID-19. The priority of 300 beds were made available by mid-April 2020, with a further requirement to provide a total of over 1,000 beds thereafter. The hospital facilities have been planned within the existing Scottish Event Campus buildings in Glasgow. Keppie's in-depth knowledge of the existing SEC buildings from our ongoing project to extend and revitalise the facility was invaluable. It allowed us to develop a core concept for the hospital within hours of arriving on the project. That underlying concept remained the one that the whole project was based on.
The clinical brief was refined through an intense parallel design and procurement processes, which resulted in the following provision:
A Lower Dependency Unit (LDU) of 941 beds equipped with piped oxygen services
A Higher Dependency Unit (HDU) of 90 beds for patients
Pharmacy services
A 270-bay modular mortuary for the wider Glasgow area
An ambulance station
Staff changing and welfare facilities
The NHS Louisa Jordan Hospital wasn't an especially complex consideration. What made the project unique was the level of multi-organisation collaboration necessary to deliver it within several significant time constraints. On 24th March, a Military Assessment Team conducted a site appraisal into the viability of the SEC for the project. The project scoping by Health Facilities Scotland (HFS) resulted in Keppie being mobilised and the development of the design concept emerged only four days later. On 31st March, construction work commenced on site, and on 19th April 2020, at 3pm, the project was officially handed over to the NHS.
Due to the nature of the pandemic, the programme for delivering the facility was extremely compressed at circa 3 weeks from inception through design, procurement, construction, commissioning to handover. By comparison the last project to deliver a facility with comparable number of beds in Scotland took over 10 years. The constrained availability of materials due to the severe restrictions placed on industry both in the UK and abroad, plus the impact of similar 'NHS Nightingale' projects having exhausted the supply chain were factors that influenced that design specification as well as the phased build programme. However, there are several factors that emerged from the project that could point the way to a more sustainable future for construction.
Adaptability in practice
Our interest in the adaptability of buildings predates the traditional the NHS Louisa Jordan Hospital project; and it goes beyond traditional concerns regarding healthcare departmental flexibility. If logic tells us that people will spend less time in hospital in future as fully invasive procedures become less reliant on observed recovery, the drive towards community-based Health & Wellbeing will surely become more desirable. Who will spend weeks recuperating in general hospital beds if complex cardiac and neurological treatment can be given laparoscopically where the surgeon and his team might not even be in the same room as the patient? Especially if such recuperation can be proven to be more effective when centred on the patient's natural desire to be at home.
These technological advances in healthcare provision were in the driving seat before the start of 2020; the pandemic has merely accelerated our need for greater strategic thinking in how to adapt our environment to be better suited for the myriad challenges ahead. Rapid obsolescence of our building stock is an increasing reality we can ill-afford.
The experiences drawn from another project designed in a completely different context had a valuable part to play in the initial idea for the Louisa Jordan hospital. In 2017, Keppie was approached to develop an adaptable proposal using modular construction to build accommodation for workers building the Qatar 2022 World Cup stadia. The country is promoting the competition as the first sustainable carbon neutral games. Unsurprisingly, there were several significant challenges in achieving this:
The extreme heat experienced all year round meant careful considerations for accommodation
The games will attract many football fans looking for affordable accommodation. For most football tournaments, it has been common to have tented facilities adjacent to stadia. For cultural and religious reasons, this is not practical in Doha.
60,000 hotel bedrooms will be required for the event. This is approximately the number of hotel beds currently available in the city of London.
With £100bn being spent in the run-up to the Games, over 100,000 workers will be needed to build the infrastructure and stadiums. Accommodation will be required for them over a long period. Our multi-disciplinary proposal to the 2022 Qatar World Cup Committee demonstrated how these issues could be addressed and a viable solution achieved in the most cost effective, sustainable manner.
It also offered the possibility of a positive legacy for Qatar, with opportunities for future use of this accommodation for other purposes in other countries. The proposals demonstrated that the facilities could constructed in any location and remained flexible enough to be modified to provide suitable accommodation for both workers and football fans during construction phase and the event respectively.
Adaptability – the capacity to be modified for a new use or purpose, and the quality of being able to adjust to new conditions – was at the core of our thinking for the Doha Modular Village and for NHS Louisa Jordan Hospital. The hospital – one that can be demounted, stored and then quickly installed elsewhere – offers a resilience to the NHS in Scotland which isn't bound by fixed location.


















An Adaptable strategy for the future
The psychological impact of 2020 is likely to be long-lasting. When faced with working from home, the perception of personal safety that will have offered for those able to do so will take a long time to break down. The fear will eventually dissipate. We are species that craves contact with others as a necessary means of human expression. An environment where our personal engagement with others can return as before is a universally shared ambition, even if currently difficult to imagine. However, architects are – sometimes, to a fault – optimistic dreamers. As a profession we evaluate problems in the wide context where we find them and explore solutions that overcome not only those known problems, but anticipated ones that may emerge out of new phenomena.
An adaptable strategy then, might simply be one which considers resilience coming from a wide diversity of uses, and the capacity of structures (whether existing or new build) to more easily accommodate cost-effective functional change. For the designer, emphasis shifts to the shell and ensuring its basic alignment with circular economy thinking.
For this to be fully effective, the dimensions of a structural grid and the floor-to-floor heights of a proposal should be considered appropriate to several functions without compromising the operation or design quality of either. If a shell and core design can adopt such diverse uses as an Outpatients Clinic, an Operating Theatre Suite, a school classroom or College lecture room, a run of hotel bedrooms, a residential apartment, a new workplace environment etc, then surely adaptability becomes a future-proofing resilient strategy as applicable to city centre structures as to new buildings on unconstrained sites designed for a longer and more sustainable future?
With an economic downturn looming, many in public sector organisations will be faced with retention, maintenance and refurbishment of older buildings in a retained estate where previously the imperative to demolish and redevelop might have been less complex. Should the value of retained urban healthcare estates like the future University Monklands Hospital lie in their potential regenerative transformation into care villages providing us with safe, protected accommodation as we live longer past retirement? If so, its design will considerably outlast the previous generation of hospitals, designed to respond to clinical models of their time but perhaps lacking in their capacity to change to any other functions, or to respond easily to changing societal needs.
If large span open halls like the SEC can be temporarily repurposed as hospital facilities, stored and then quickly reinstalled to combat regional peaks in different locations, that adaptable philosophy can be deployed to repurpose industrial sheds as Mega-Laboratories for testing, and arguably for vaccination. If existing services and column-free space is the infrastructural panacea for the challenges ahead, could airports and transportation hubs be the optimal building types to deliver rapid response facilities while we wait for those industries to hopefully recover?
The solution to unplanned events is always adaptability. As Charles Darwin wrote: 'It is not the strongest species that survive, nor the most intelligent, but the one most responsive to change.'
As a topical metaphor, we are currently amazed at the speed of the development of the Covid-19 vaccines. A process that could normally take ten years has taken around six months, and whilst the challenges of roll-out remain, the trials have clearly been miraculous. But perhaps not surprising given human ability to creatively and practically improvise when we really need to.
Similarly, our immediate need for creative, adaptive and rapid responses in our built environment has become the defining aspiration of our age. If the context in which we work is truly adaptable and responsive to change, look what can happen when we put our minds to it; collaborating and innovating to respond to the quickening pace of society's changing needs.