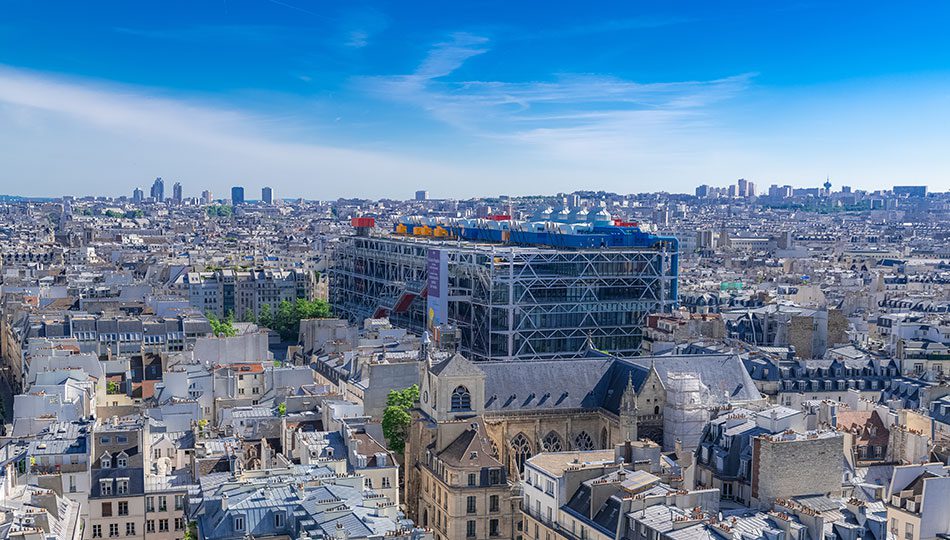 As an architect is it possible to have a favourite building?
What criteria do you use to assess all the buildings you interact with over your lifetime to establish a favourite one?
Do you have to have personally visited a building for it to be your favourite?
A few of the questions that filled my head when asked to write about my favourite building…
My interest in architecture spans four decades, so far, and I am sure that my subconscious exposure extends to many more. Over this period my tastes and understanding has developed and matured; does this mean, however, that buildings that I liked at the beginning of my journey are any less valid?
In fact, are buildings that are indelibly marked on my psyche from this early period more important as they represent a more base response to the built environment? The childhood memories of a grandparents house, it's polished wooden floors perfect for sliding on; the random changes in level reflecting the ad hoc growth of the home over 300 years; the smell of a Sunday roast, home made apple and blackberry crumble and Women's hour on the radio. These emotional responses linked directly to the spaces contained within its historic edifice.
Or the holiday villa in the hills on the out skirts of Banyoles, it's views, it's pool, it's happy screams of children having fun intermingled with the craw of birds of prey circulating on the thermals, the sun and distinctive smells of holiday. All these elements united by the adobe architecture repurposed as a canvas for experience rather than the experience itself.
In a similar vein, I recall exposure to more avant-garde and exotic architecture at an early age. The poster from a late 1980s Corbusier exhibition, juxtaposed to a Vitus poster of Sean Kelly, caked in mud on his way to victory at the Hell of the North and constructivist Russian propaganda posters. Sitting large the full colour reproduction of Notre Dame du Haut; it's sensual white lines bisected by bulbous grey concrete roof, green grass blues sky and highly contrasting shadows combining to spark an interest in Corbusier that continues to this day. I have visited many of his buildings but still not made it to Ronchamp. Yet this remains a significant building to me. My exposure to the dynamic colour infused spaces, forms bought together through the play of light, experienced through the lens of someone else's camera.
This interest in Corbusier resulted in many days wondering the streets of Paris as a student, basic map in hand (this was pre-internet), visiting as many of his works as possible around the city, including stolen glimpses over a neighbouring wall of Masion Jaoul, I wasn't allowed inside. But this remains one of my favourite Corbusier building, it's Breton Brute and rustic brickwork, reminiscent of a pallet of materials familiar to a kid growing up in London and, later, seeing this thread running through the works of Andy MacMillan and Isi Metzstein, St Brides in East Kilbride and Our Lady and St. Francis School in Glasgow.
Over the decades I have visited many buildings to experience their qualities for myself. Those peaceful moments stolen at the Barcelona Pavilion; quiet contemplation at the Picasso Museum in Paris; Frank Lloyd Wright experienced through the Kaufman Office at the V&A in London; Mies' Seagram Building in New York not only a masterful refinement of structure and space but also a shining example of private development giving back to the city. Through its positioning on the urban block, the new public plaza created an extension of the city's public realm unique at this time in New York and leading to a fundamental change in urban planning policy.
Closer to home, studying at the Mac enabled me to explore daily the art school and its architectural promenade, sequences of space flowing and morphing in scale, material, darkness and light. A significant education learnt through experience and exposure rather than taught and a building that I used repeatedly as a reference for my students while tutoring at the Mac.
There are still more buildings to which I repeatedly refer to for which my only experience so far has been through images, drawings and diagrams. These are still significant in my architectural lexicon and no less important to me for the lack of personal experience. Falling Water and the Robbie house; the church of St Marks and church of St Peter by Sigurd Lewerentz; Saynstsalo Town Hall by Alvar Aalto; Void Space/Hinged Space and the chapel of St Ignatius by Steven Holl; the early works of Morphosis; Munster city Library by Bolles+Wilson, to name a few.
Coming full circle, reflecting, if pushed, on what singular building is most significant to me, I would need to return to Paris as a 16-year-old, walking into the Place Georges Pompidou and seeing the Beaubourg for the first time juxtaposed to Haussmanns Paris and a stones throw from the Hotel de Ville. The uniqueness of the collaboration between architecture and engineering, the workings of the building worn proudly on the outside as a rational strategy to deliver flexible floor plates. The inclusion of public realm, not just at ground level but extending up through the external escalators, to the roof of the building reflective of an idea that buildings are part of the environment within which they are built and can enhance this through strategic urban moves. The use of bold colour to reiterate the logic of structure and services. The sense of fun and the boldness with which the client and city had embraced the different.
I recall a photograph taken by me, the negative long since lost, atop the roof of Richard Rodgers brilliant building, its pipes and structure filling the foreground and the Eiffel Tower blurred in the distance capturing the harmony between old and new. Many years later, this same composition relived through the discovery of the roof top garden of the Beistegui apartment by Corbusier; white walls, French baroque furniture, a fire place, grass and the Eiffel tower poking up above the strong horizontal of the parapet.
The Pompidou Centre truly galvanised that I wanted to be an architect and opened the doors to what is possible through collaboration between design team and client with a shared vision to do something special. This building was the beginning of a journey of learning that I am still on. It was also my introduction to the work of Richard Rogers whose work, physical, conceptual and theoretical, I have followed ever since; especially as the struggles he faced in his youth run parallel to the challenges that I have faced on my path to becoming an architect.