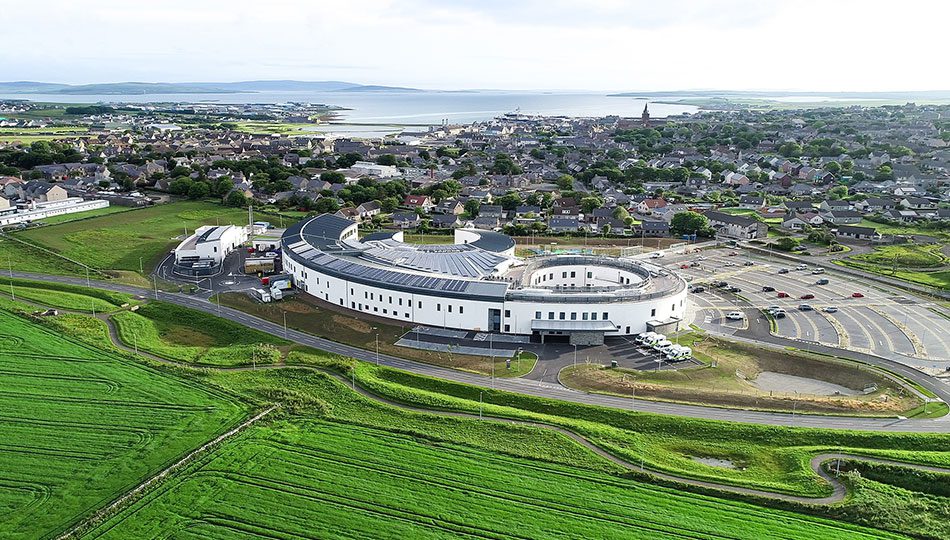 The new £64m Balfour hospital, designed by Keppie, has opened to facilitate and support the delivery of health and social care services to the 21,000 strong population of the Orkney Islands.
The hospital has been designed to put people first and make a positive contribution to the environment, local community and economy. In a challenging environment and exposed site location, the concept behind the design was one of protection and shielding from the extreme weather conditions. The curve of the building protects the main entrance space and inpatient accommodation and is a reference and acknowledgement to the historical architectural form unique to the Islands.
The challenge was to split a relatively large building down into distinct areas or districts, with separate identities, but unified as part of the 'town' plan. An interrelated series of 'streets' and spaces are situated along patterns of established movement, arranged around a single central hub.
From this public space, wayfinding is easy and intuitive and the space is visually connected with external courtyards to further remove the traditional institutional associations.
The new building accommodates a diverse range of departments which are designed to be flexible both at user level, supporting complex staffing conditions, and for future expansion and service planning. Accommodation comprises of flexible integrated wards, Maternity, Palliative Care Unit, Outpatients, GPs practices, Dental, Emergency Department, Radiology, Pharmacy and Labs, Operating Theatres and a Central Decontamination Unit as well as supporting Administration Centre and Public arrival facilities.
Keppie Director, David Ross said:
'This has been a hugely rewarding project for our practice. It continued a close relationship developed with the Island's community during our previous projects in Kirkwall and Stromness. The enthusiasm of the client's team infused the whole project with positivity from the outset and the success of the project owes so much to their collaborative spirit.'
Project Team
• Investment: Robertson Capital Projects
• Architect: Keppie
• Principal Contractor: Robertson
• Structural Engineer: AECOM
• Building Services Engineer: Tuv Sud
• Health Planning: Capita
• ICT: Boston Networks
• Hard FM & Lifecycle Maintenance: Robertson Facilities Management