Client
HBD / Hilton / Aberdeen City Council
Dates
2019
Value
£33m
Area
14650 sqm
Status
Completed
Sectors...
Services
NEW CUTTING

–

EDGE DESIGN CREATED FOR HILTON @ TECA ABERDEEN
The new 4 star Hilton Branded hotel was designed to be fully integrated with the adjacent The £330m Events Complex Aberdeen(TECA) situated to the North of the city. Won in competition, Keppie designed and coordinated all aspects of this futuristic hotel comprising 200 rooms, 6 well equipped meeting rooms, 10 suites, a gym, pool and guest SPA. A Presidential suite is also included within the hotel together which a feature bar and a 150 cover restaurant. 
The 5 storey structure has an increased first floor height which links directly to the TECA Conference suite and contains an executive suite with an external terrace overlooking the impressive entrance piazza of TECA and overall master planned site. A limited and controlled palette of material has been selected for the striking angular envelope, consistent with the TECA building.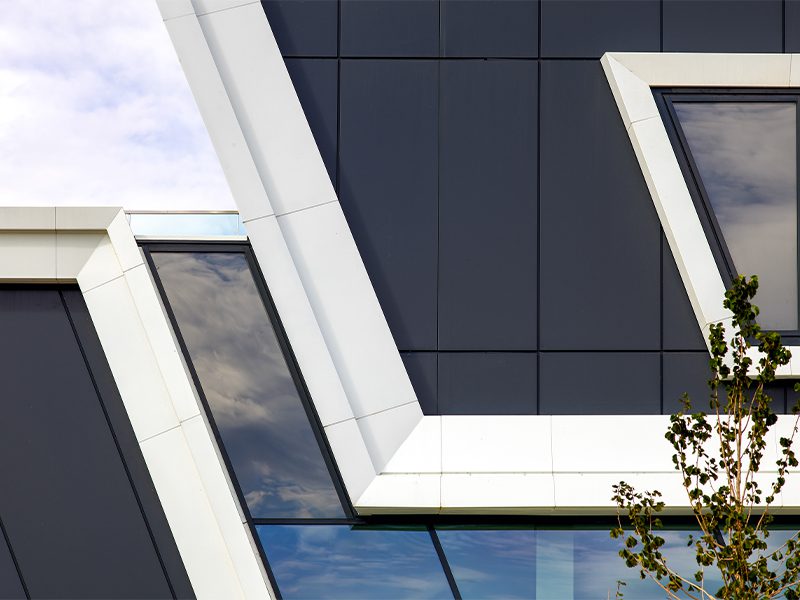 Dark Grey Qbiss metal rainscreen cladding contrasts with the light grey silver ribbon flashing detail especially at the angled junction of the Kalzip clad feature gable. Ribbon windows are punctuated by staggered angular projected window frames on the flowing main elevation which dramatically cascades to the ground to the South creating a sense of movement which extends into the landscape design. The entrance portico structure follows the 21degree angle consistent with the main building. The building proportions are deliberately elongated to reduce the height of the structure recognising the height restrictions imposed by the nearby Aberdeen International Airport. 
Parking for the hotel is allocated within the nearby TECA subterranean structure with 200 spaces available for a mixture of cars, bicycles and motorbikes. An interchange is also located adjacent to the hotel linking it to the airport and city via highly sustainable hydrogen fuelled buses. The building fully utilises the green energy provided by the award winning TECA energy centre.