Client
Vastint
Contact
Vastint
Dates
Ongoing
Value
£18m
Status
In Design
Sectors...
Services
respectful design on the banks of the river ness
Continuing our successful working relationship with Vastint Hospitality, Keppie was approached to look at the concept for the development of a 175 bed, 4 star hotel at Glebe Street, Inverness, located within a masterplan for the extent of the site.  The design concept was aligned to the brief for an AC Hotel by Marriott, a brand which is modern, functional and elegant and the first of its kind to be developed in Scotland.
The vacant site located on the banks of the River Ness, is a key site and of great regeneration importance in terms of the city centre, the river front and the city's conservation area.  Historically it accommodated the swimming baths for the city, which have been demolished for circa 20 years.  The aspirations for the development was to rejuvenate the redundant site, bringing pedestrian activity back towards Friar's bridge, drawn along the river front from the city centre.  The design concept was required to incorporate several key client aspirations including:
175 bedroom, 4 star hotel with restaurant, bar and leisure facilities, spread across the site to reduce the impact of the building mass.
The requirement for the design to respect the River Ness and the adjacent conservation area.
A sensitive yet contemporary hotel design incorporating the latest Cross Laminated Timber (CLT) technology, used by Vastint throughout there projects
A broader masterplan to show subsequent development phases including further hotel accommodation and the conversion/refurbishment of an existing listed warehouse for potential conference/banquet/event space.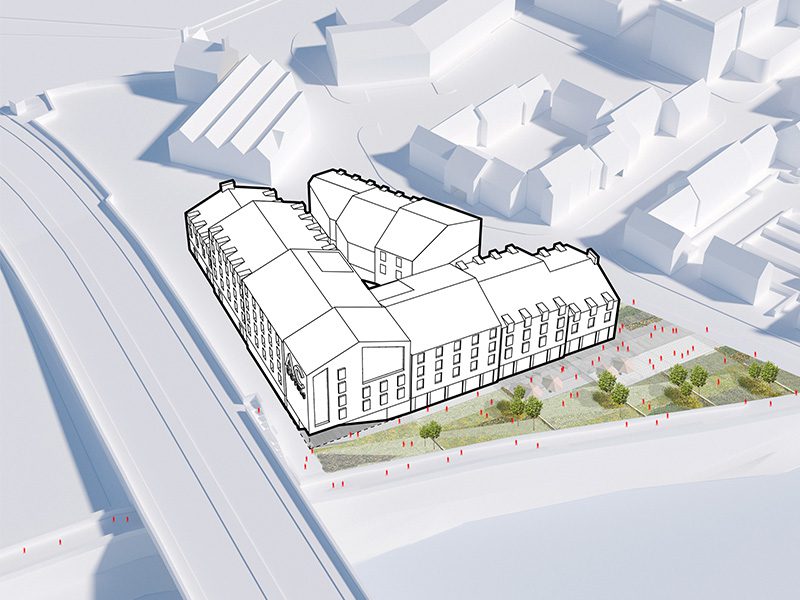 The final developed design concept is for a stepped 3-5 storey, 175 bed hotel split over 2 buildings, which takes cognisance of the surrounding residential context.  It has been developed to incorporate contextual materials and vernacular features paying respect to the rich heritage and material palette of its adjacent conservation location, albeit with a contemporary restraint.  The design also addresses and activates the highly visible riverfront through the creation of a large south facing terrace which is directly accessible from the restaurant/bar.  It incorporates the low energy, sustainable construction technology through the use of CLT, which is used to create the modular bedrooms ensuring accuracy and standardisation whilst minimising waste.
Keppie participated in workshops and meetings with The Highland Council and the Inverness Design Review Panel throughout the process, to ensure that the proposals adhere to the aspirations and principals of the key consultees, providing a transformational approach for the site and city.  Full planning approval was achieved late 2019.