CLIENT
Edinburgh Caledonia
Film Studios Ltd
CONSULTATION DATES
16th February 2022 – 9th March 2022 (Consultation now closed)
CONTACT THE DESIGN TEAM:
Film Studio Consultation, Keppie Design, 160 West Regent Street, Glasgow, G2 4RL
Tel: 0141 204 0066
filmstudio@keppiedesign.co.uk
PUBLIC CONSULTATION
This Public Consultation has now closed
Thank you for taking part in the public consultation for the proposed Film Studio Campus at Gartcosh. Please note that the interactive consultation has now ended. You can still view the consultation boards and information on this website to see what our proposals consist of. The project team will now review and reflect upon the feedback received in advance of any planning application submission to North Lanarkshire Council.
If you are aware of someone who does not have internet access and/or requires hard copies of any consultation information and/or feedback forms, you can provide us with their name and address and we will send this information to them. Alternatively, the Design Team can be contacted as below, and anyone can leave their contact details and any comments for the Team.
LIVE EVENTS
We hosted a live and interactive consultation event on Wednesday 2nd March (3pm – 7pm), where members of the client and/or design team were available to answer any questions. Where the design team were unable to answer any specific queries on the day, a response was provided within 7 days of the event.
ABOUT ECFS
Edinburgh Caledonia Film Studios Ltd is led by Development Directors Jim O'Donnell and Norman Reid. ECFS will be the developer and operator of the Film Studio development, and have substantial experience in development and operating Film and TV production facilities around the world. More information on ECFS can be found at https://edincal.com/
ABOUT THE SITE
The site, at Auldyards Road, Gartcosh Industrial Park, is a 44 acre site, and is currently vacant. ECFS are working with Scottish Enterprise (the current owners) to bring this development project forward. It has excellent transport links, with existing industrial-class roads and direct link to the motorway network, and located close the availability of existing skilled labour and supply chain services through the central belt and beyond. The Location Plan, submitted with the Proposal of Application Notice, is provided below.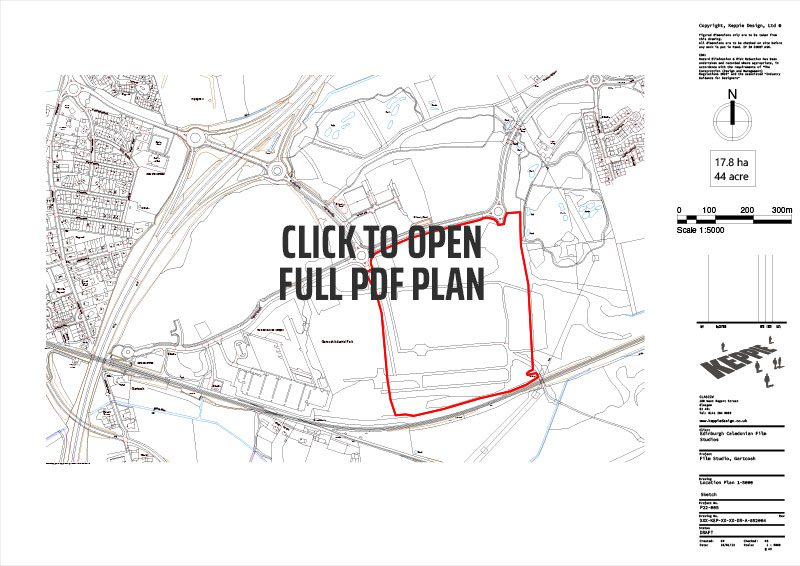 ABOUT THE PROPOSAL
Details of the proposed development, and how the layout and sounds stages might look, can be found in the Exhibition Boards link below. As a summary, the development will include:
10 Sound Stages;
12 Workshops (incl Training School);
Media Hub;
Pre/Post-Production Offices;
Nursery;
Waste Recycling Centre (Campus only).
Please see below the Exhibition Boards which includes further details on: the background to the proposals and the Film/TV industry vision; an analysis of the existing site; the proposed site layout; an aerial image of the proposals; examples of the individual buildings; technical information to support the proposals; and next steps in the process.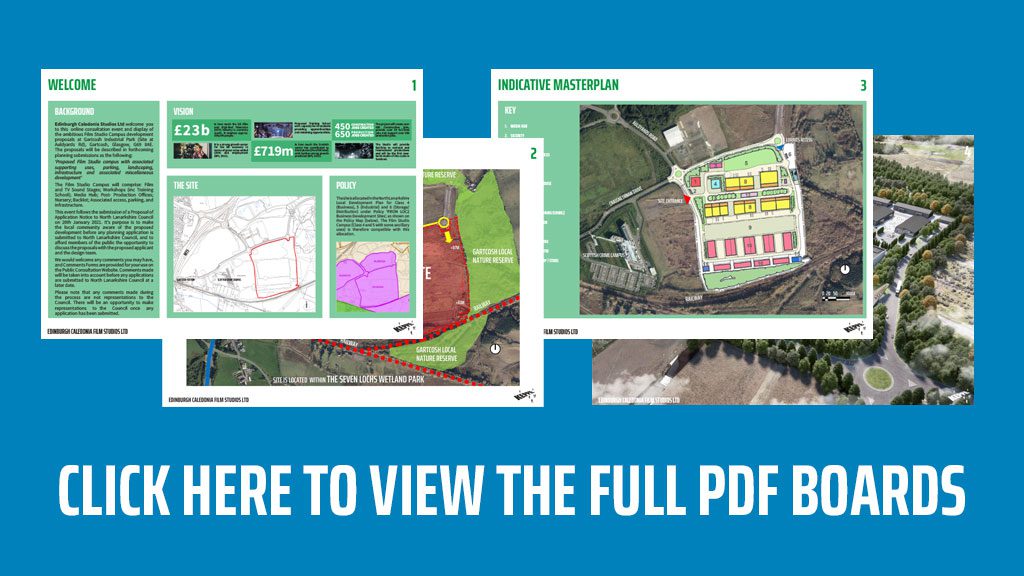 YOUR COMMENTS
Comments Forms (Hard Copy) and Comments Form (Online) were available throughout the consultation. Comments through these forms, or any other emails to filmstudio@keppiedesign.co.uk form an important part of the public consultation process, and these will now be taken into account as the proposals evolve. Comments made will also be included in a Pre-Application Consultation Report to be submitted to the Council along with any future planning application.
Please note that any comments made do not count as a representation to any future planning application. There will be an opportunity to make representations to the Council once an application has been submitted. The Council are responsible for the notification process for planning applications.
ONLINE COMMENTS FORM (now closed)
DOWNLOAD COMMENTS FORM (now closed)
Thank you for visiting the Public Consultation webpage for Film Studio Campus, Gartcosh. We hope this was able to answer any queries you may have, and we look forward to bringing this exciting project to North Lanarkshire.