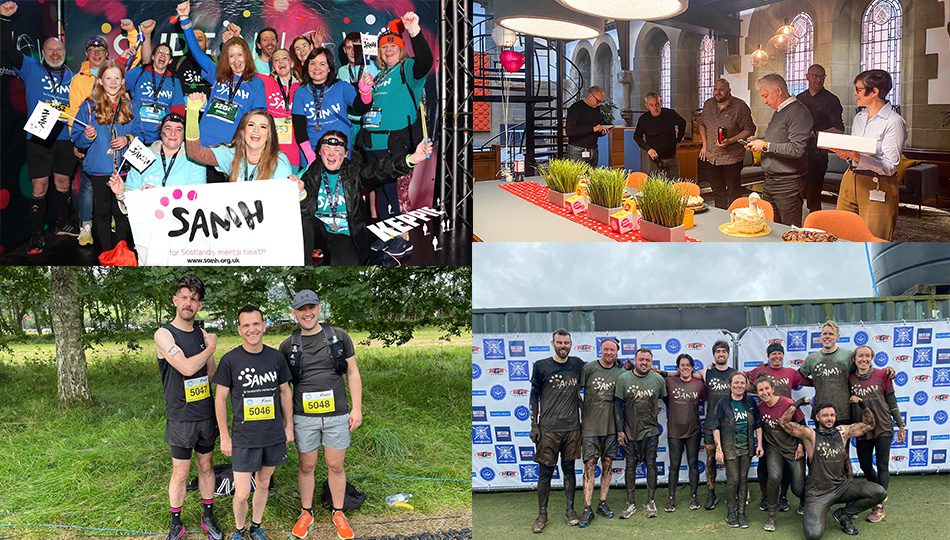 Today is International Charity Day (05/09/2023), so we wanted to take this opportunity to look at the events we have done in collaboration with our charity partner, SAMH.
1 in 4 people will experience a mental health related issue, such as anxiety or depression in their lifetime, and since the pandemic, SAMH's information service saw a 50% increase in demand. Partnering with SAMH for the next 2 years (2023-2024) came together as we realised how vital mental health services are in Scotland, and how many people this affects. By setting a target of £20,000 over the next 2 years, we understood how many people this would help, at a time when mental health support has never been so needed.
We started off the year with Keppie's Step Challenge in January, getting us out fit and active after the winter break. We managed a massive 70,000 steps overall, whilst starting our fundraising. It was then onto February for the Valentine's Day bake sale, which certainly brought out our inner Mary Berry's! Our select panel of judges were definitely treated to a vast and diverse number of treats!
As SAMH recognises the importance of linking physical health to mental health, our next sporting challenge was a 5k (walk or run) around Falkirk's Kelpies. We had a massive amount of people sign up to this challenge, and it was a fantastic evening, with the illuminated glow of the 100ft equine figures lighting up the skies!
April saw us get both creative and competitive with a double Easter Egg Hunt in the office (10 minutes of chaos and exhaustion, with some people getting more competitive than others!), and then at the end of the month, saw the staff display their artistic talents, with a Keppie Art Sale and 'Guess the Artist' competition. A special shout out to Grant Russell-Jackson, who incorporated a special optical illusion into his spectacular art piece.
We had been in training for our next physical challenge, and one that would get us muddier than the others; the summer MacTuff challenge! A group of strong volunteers dared to race around the Knockhill Racing Circuit, in what ended up being a 10k challenge due to a last-minute course change (not the 7k initially promised!). Overall, it was a fantastically run event, physically demanding but ultimately rewarding, and a great team bonding day– we all carried each other throughout it, whether it was getting out a mud pit or being lifted across high barriers!
Next up was our internal events such as Keppie Krufts and Games Night in May and June. Both, nearly as competitive as each other, as we showed off our pets, from dogs to cats, to tortoise! Games Night brought out some unknown ambitions, with the egg and spoon race getting quite heated!
July prompted a good warm up for those competing in August's Aberfeldy Triathlon, with a cycle challenge; 100 miles for SAMH! Some of the competitors even doubled this amount, which is an amazing achievement. The Aberfeldy Triathlon was our most physically demanding challenge with a 1900m swim, 90k cycle and 21k run! We entered 4 teams into this challenge, with the fastest team completing it in an amazing 4 hours 55 minutes! The team had aimed to raise £1,500, and doubled this, raising over £3,000!
Our total so far for the year, at the start of September is £9,600! Watch this space to find out what events are next in the Keppie Calendar, with a "Wear What Makes You Happy" day and our annual Keppie Table Tennis Tournament all still to come!