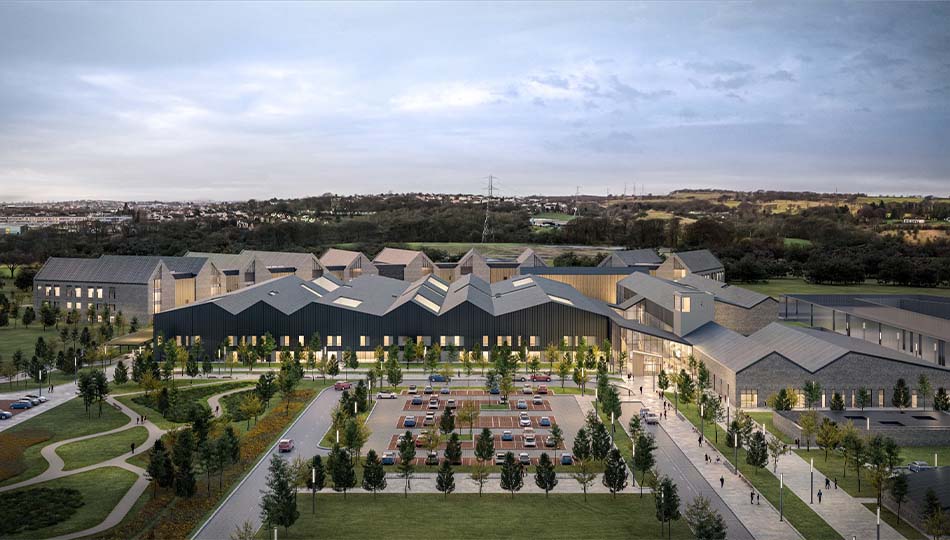 NHS Lanarkshire's exciting vision for a replacement University Hospital Monklands has reached another milestone with the start of the process to seek planning permission.
The health board has announced that, as part of the process, it will hold a public consultation in March before submitting a planning application for its proposal to build the state-of-the-art new hospital at Wester Moffat, a picturesque site on the outskirts of Airdrie.
A Proposal of Application Notice, submitted on Friday (4 Feb) to North Lanarkshire Council, includes an outline of the pre-application consultation, which is part of the planning process for the Wester Moffat site. It also has information on the eye-catching Wester Moffat setting, proposed as the home to a new hospital that will be expertly tailored by Keppie, and Hirst Landscape Architects, providing spectacular views and a healing natural environment.
In line with current Scottish Government guidance, the four-week consultation will be online due to the pandemic.
A dedicated website will provide information on issues relevant to the MRP's planning application to inform feedback from the public, health and care staff and other stakeholders.
The website will also host two virtual public events (Thursday 17 March and Saturday 19 March), which will give the community an opportunity to have live question-and-answer sessions with members of the project team.
Monklands Replacement Project director Graeme Reid said: "The project team is absolutely delighted that the planning process is under way, marking another important step forward on the exciting journey to a new hospital for Lanarkshire.
"The fantastic input of stakeholders has been crucial to the project so far and we look forward to engaging with the community on the plans for the ultra-modern new hospital as we progress through the planning process."
Chris Mitchell, Keppie's Head of Planning said:
"We're excited to be on this journey with NHS Lanarkshire, and indeed the stakeholders and end users of this new hospital. There has been a lot of hard work leading up to the start of the planning process, and this will only continue as we engage with the community, and prepare the planning application in the near future."