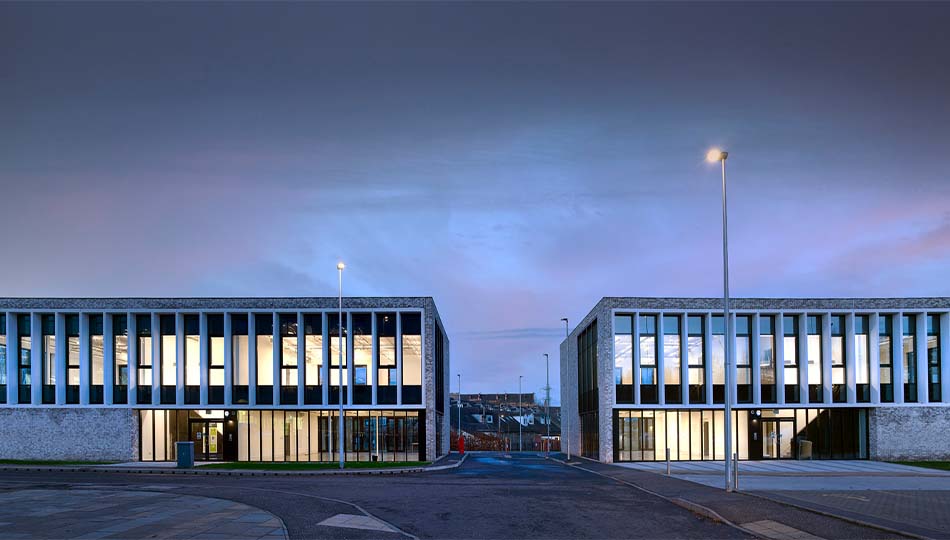 We are pleased to reveal that five of our projects have been entered for the 2021 GIA Awards, with winners due to be announced on 25th November.
Commercial / Industrial / Infrastructure & Retail Category
We have three projects in this category. The first of these is Rutherglen Links Office Pavilions (pictured above). The project features two modern office pavilions at Clyde Gateway's successful Rutherglen Links Business Park. Two and Three Rutherglen Links are part of just a handful of speculative office developments being built in Scotland and the UK regionally. The £3.75m buildings offer a combined 15,000 sqm of office space for around 120 employees.
Our second project in this category is Bridgeton Civic Hub, Landressy Street (pictured below), a new build office pavilion located on a vacant plot in Bridgeton, Glasgow. The site is situated within Bridgeton's Conservation Area opposite the renowned Glasgow Women's Library and will become the new headquarters for the Scottish Trades Union Congress (STUC).
Our third project in this category is The HALO Enterprise & Innovation Centre, Kilmarnock (pictured below). Located on the site of the former Johnnie Walker whisky bottling plant, the HALO Enterprise & Innovation Centre forms Phase 1 of the masterplan to regenerate the 23-acre site. Future phases of the masterplan will include housing, digital light manufacturing ,educational and leisure facilities – all powered by renewable energy – to provide Scotland's first net zero carbon town centre development. The 4-storey E&I Centre comprises a café, retail space and three open-plan office floorplates which take advantage of extensive full-height curtain wall glazing. A perforated plant screen at roof level can be lit up at night, creating a focal point for the building itself and for the local area.




Healthcare Category
The new Elgin & Appin Wards (Stobhill Mental Health Estate, pictured above) form part of the wider mental health services strategy (NHS GG+C) providing a 20-bed Adult Acute Admissions unit (Elgin Ward) to replace existing facilities at Parkhead Hospital, and a 20-bed Complex Clinical Care unit (Appin Ward) replacing an element of the bed capacity at Birdston Nursing Home. This unique, award-winning facility, seeks to foster social inclusion by delivering rehabilitation, discharge and recovery services promoting independence and self-reliance. Delivered through the height of the coronavirus pandemic, the single-story wards are planned around safe, calming courtyards, framing views of the existing Victorian water tower synonymous with Stobhill.
Education Category
Tullibody South Campus (pictured above) is a purpose-built Community and Educational Campus delivered with the aim of achieving Clackmannanshire Council's vision of bringing together Abercromby Primary School, St Bernadettes RC Primary School, a new Early Years Centre, and local community facilities into one Facility. Keppie were selected as designers for the project following a competitive process run by Hub East Central, novated to Robertson Construction as part of a 52week delivery programme, Handed over August 2019 with externals completed early 2020. The teaching facilities allow Clackmannanshire Council to adopt the latest teaching methods and technology to deliver Curriculum for Excellence.
We wish all of those entered the best of luck in the upcoming ceremony! For more information please visit here.