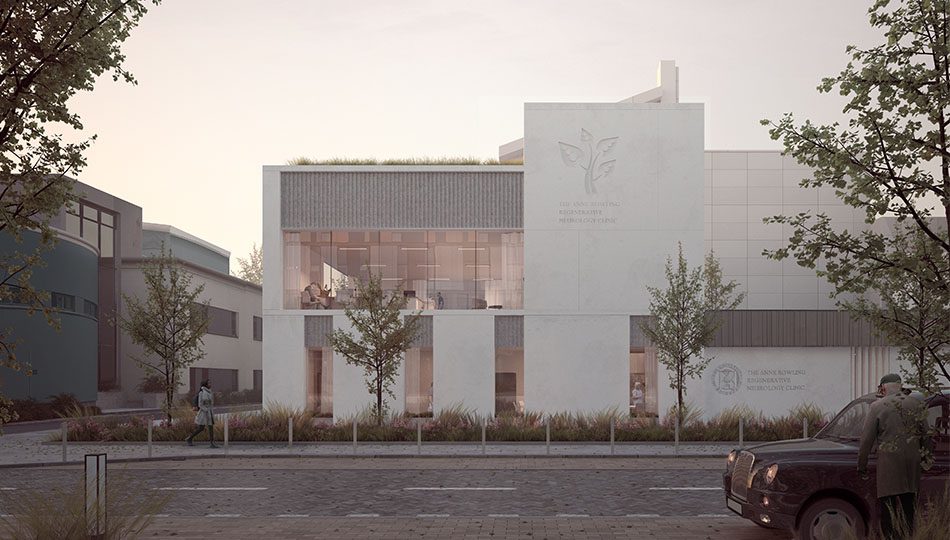 Planning Approval has been secured, on behalf of the University of Edinburgh, by Keppie for the extension to the Anne Rowling Regenerative Neurology Clinic. The consent was secured following a full engagement process with the City of Edinburgh Council.
The Anne Rowling Clinic is based at Edinburgh BioQuarter and was opened in 2013 following a donation from J.K. Rowling in memory of her mother, Anne, who died from complications related to multiple sclerosis (MS). It delivers research and clinical trials for people with neurodegenerative diseases such as MS and motor neurone disease (MND), as well as hosting NHS specialist clinics for patients with these conditions.
The clinic is now running at full capacity and more space is required to expand care and research. In September 2019, Ms Rowling donated a further £15.3m, which is inclusive of gift aid, to the University to create new facilities and support vital research at the Anne Rowling Regenerative Neurology Clinic.
The proposed extension will allow more patients to be seen in an environment that offers access to flagship research programmes and participation in clinical trials. It will also accommodate an expanded research team.
The building will be a sensitive extension to the original, embodying the growth and development of the clinic. The lower floor of accommodating houses the smaller clinical and community components. A new, flexible workspace, benefiting from elevated views, good daylight and natural ventilation is located on the upper floor. The existing entrance space has been refreshed to form a more welcoming environment with a new reception desk, enhanced digital technologies and a collaborative, research café space. Existing support accommodation is also to be upgraded to improve the clinical operation of the facility.
Externally, a new therapy garden has been proposed, accessed directly from the community room and main entrance space. A new landscaped, terrace space, providing much needed amenity space for both research staff and building visitors exploits the south facing aspect of the upper floor.
The building is clad in precast concrete panels to match the existing with intricate fluted detailing around window and door openings.
Work is anticipated to start on site in Q2 2021.
Project Team
Client – University of Edinburgh/Consort
Architect – Keppie
Planning Consultant – Keppie
CDM – WSP
Cost Consultancy – Thomson Bethune
Structural Engineers- Goodson
M+E Engineers – Hulley and Kirkwood
Landscape – LUC
Fire Engineering – Atelier Ten
Main Contractor – FES
(Image courtesy of Darcstudio)