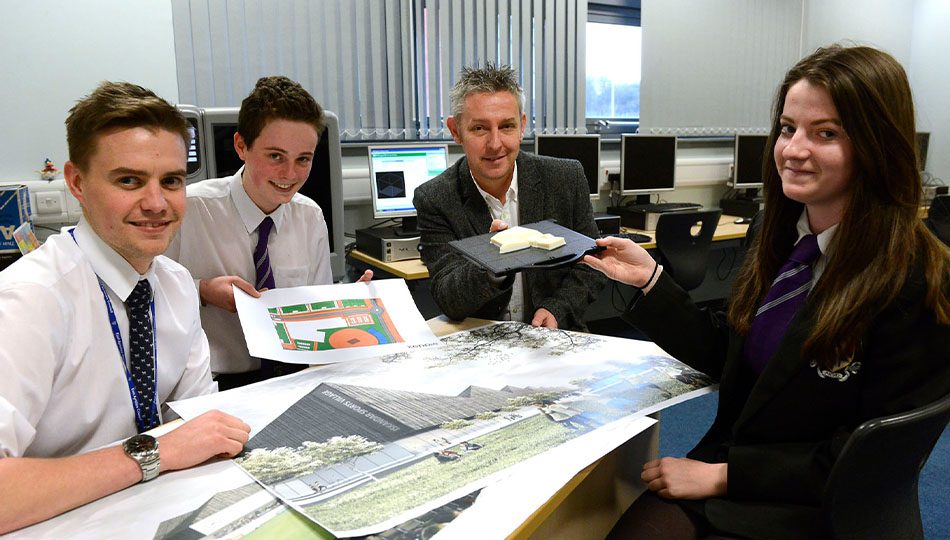 The Second in a Series of Pieces Looking at What Might Come Next for the Key Sectors Post-COVID
Designers cannot – and should not – tell teachers how they should teach. But if we fail to question and mould the physical structure in which this learning takes place, then our school designs will remain relatively static. The standard eight classroom blocks joined together by relentlessly straight corridors with perhaps the odd nod towards 'flexible space', will continue to be the accepted and comfortable norm. We have been actively engaged in the design of learning environments across the education spectrum for decades.  We believe that everyone engaged in education and envisioning its future shape should also be concerned to change this outdated paradigm to one which is better suited to the future needs and the future learning of our young people and our communities.
What are the outcomes for children and young people that we should hold as being most important?
We are at a pivotal point in the consideration of future learning environments. The pandemic is not the reason for this, but it has accelerated our need to acknowledge it as a catalytic opportunity. COVID-19 responses were initially likely to prioritise the adaptation of existing facilities to achieve smaller classrooms, especially for younger children. This has long been an educational aspiration but a difficult political target. As our Learning aspirations also change and we seek safe educational establishments which can contribute more to the communities they are a central part of, new educational buildings also need to respond to the challenges of social interaction. Long-term vocational need rather than being predominantly focused on the demonstration of acquired knowledge through an antiquated examination process may yet be an unexpected beneficial outcome.
Despite our best attempts and the inquisitive, analytical nature of our training as architects, we certainly cannot predict the future. But there are things that we do know. One is that the type of work we undertake will continue to change for most people. Our children will expect to change not only their jobs, but also their career choices several times in their working lives.
Digital technologies have also created a blurring of the traditional boundaries between home and work, and between business and pleasure. Many people now work faster with more to do and to shorter deadlines consequently. This is the world our children will emerge into when their statutory schooling is over. The application of technology to aid Learning has been an essential part of home-schooling and it must be embraced once a safe return to the school campus take place.
Current systems of education were developed to meet the needs of a former age.  If education is indeed the key to how humanity faces the daunting challenges of rapid technological advancement, accelerating population growth, declining natural resources and massive urbanisation, then it needs to be transformed to meet these challenges. We believe it will do that by an all-encompassing focus on promoting creativity, imagination, and innovation in our young people. This is essentially the new brief for those designing the learning environments we will need in the future.
To begin to meet the challenge of equipping young people to live and thrive in an ever-changing world of opportunity and change, education has moved slowly towards a more problem-based learning curriculum.  This has perhaps emerged more in higher and further education as Universities and Colleges have attempted to teach students through problem-solving, rather than more traditional theoretical methods of academic research.
We believe this approach is even more relevant at secondary school stages.  Here it has the potential to be a total education strategy as opposed to a mere teaching and learning technique.
One of the main defining characteristics of problem-based learning – which distinguishes it from other forms of enquiry-based Learning – is that the problem is presented to the pupils first at the start of the learning process before other curriculum issues.  We have direct experience of this approach not only from our own professional training but through practical application in East Ayrshire where KEPPIE facilitated a unique pilot initiative. It was called INTERACTION and promoted a problem-based learning programme for all 9 Secondary schools requiring inter-disciplinary, external business and wider learning collaboration. East Ayrshire Council's Education Department was extremely innovative in their attitude to problem-based learning and considered it to be the future for curricular development.
Problem-based learning is both a curriculum and a process. The curriculum would comprise of carefully selected and designed problems that demand from the learner acquisition of critical knowledge, problem solving proficiency, self-directed strategies and team participation skills. Most importantly, the process replicates the commonly used systematic approach to resolving problems or meeting challenges that are encountered in life and career.
One of the risks presented by the challenging and ever-changing future that awaits our young people is the need both to enable and equip each person to meet those challenges and the need to promote and strengthen community engagement and collaboration.
Some schools describe themselves as 'community schools' and many refer to involvement with the community within their individual ethos and vision statements. Generally, references to 'community' in this respect are limited to involvement in school activities out of hours by parents and those living locally, but how many schools think about the community inside the school, their immediate community of learners?
Schools do appear to be communities, yet our own more subjective definitions of community go further than this, encompassing attributes such as leadership, belonging, pride, loyalty, and security. If students move around the school with little opportunity to interact collaboratively then how can these attributes be felt or realised by students as a group, rather than simply as an individual? Perhaps the future school day should more closely mirror that of the traditional adult working day? If a school day started at 9am and finished at 5pm, it might permit more time between lessons for pupils to digest what they've just heard or written. It might also allow more time for peer-to-peer learning. It might even remove the need for homework if time is available within the school day to accommodate it. Teachers would have more time within the school day for the preparation of lessons. After all, we have made huge strides forward in regulating an appropriate work/life balance for adults, so why not for children too? The wider financial benefits of such a change to our economy are also worthy of debate. The one thing the pandemic has taught us is the ability to adapt to changing circumstances and be more far more flexible in how our time is divided. Perhaps our learning environments could embrace this more fully and the facilities they comprise be encouraged to work harder for us, to accommodate that flexibility we seek.
If our future learning environments are to be truly community orientated, they should open at 7am and stay open until around 10pm. A core teaching day could run from 9am-5pm. It would sustain the conventional function of Learning but perhaps be more focused on age rather than stage as a vehicle for its curricular problem-based structure. It would be a vibrant, flexible, and easily adaptable environment that would accommodate crèche all the way up to the further education and vocational training programmes in its extended day timetable; and often all at the same time. Its 'Library' would be a community orientated Learning Resource Centre; its Theatre and Sports facilities available as community-focused locations where achievement in the Arts and in Sports becomes not only the school's aspirations but that of the entire community.
Imagine a substantial open and permeable campus, with all the multi-agency community facilities drawn onto that environment too: public library, police station, health centre. This would be a pivotal hub around which – and on which – the community functions. There would be a constant flow of adults through the campus enjoying and participating in those community functions. To a significant extent though, this 'extended' school sucks in resources from the surrounding community leaving less infrastructure outside the school. Education, in its fullest sense would become central to a community's identity, growth and future.
This concept is of a relatively conventional learning environment, in as much as anything can be at a time of rapid change. But for real-life experience of enterprise, for health support and the promotion of life skills the school can rely on the tangible experiences of a real context and interactions with real people rather than erecting a surrogate and relying on the limitations of theory-based Distance Learning. There would be a constant flow of expertise into the campus. This does not easily follow a conventional timetable, therefore nor does the school.
We believe this type of environment promotes leadership, innovation and creativity in our young people by allowing them to learn as much from each other as they do from a teacher. These are the outcomes which education should aspire to.









Is Scottish education sufficiently ambitious? What should it do to ensure that it meets future challenges and remains internationally competitive?
A sense of school community is not simply defined by a badge, common philosophy, or written ethos. It needs space to grow and develop, and should be inspired by opportunities to congregate, meet, chat, discuss, play and perform; all of the non-curricular activities which too often fall outside the theoretical requirements of a school design brief. School designers often grumble that their task of helping to create a community within a school is limited to how they design and use these 'left-over spaces', once the important task of positioning the classrooms is agreed.
Outside of the school environment children are not discouraged or forbidden from socialising, playing or interacting with others of a different age. They attend classes, go to various clubs, play in the street with neighbours, and interact with their younger or older siblings daily. So why segregate them into strict age groups within a school? It may be a long time before children are allowed to be taught according to ability, and not age, and it may never happen in our lifetime; but why should they be corralled into spending much of their free school time with only pupils from their peer age group? To develop a sense of community responsibility, and flourish as ethical human beings, children need to learn how to care for others as well as simply being cared for themselves. Encouraging the year groups within a school to mix freely can be daunting for members of staff who may have concerns about bullying or loss of supervision or control. However, studies have shown that the moral and cognitive gains derived from age group interaction far outweigh any initial fears.
A few years ago, a group of architects from KEPPIE travelled to Stockholm in Sweden. The invitation had come from Professor Alan Dilani from the International Academy for Design and Health (IADH), with whom we had worked on various healthcare design projects. Alan is primarily interested in how design affects healing, and the therapeutic benefits of good design for patients, and was keen to see whether Swedish school designs could benefit our growing education knowledge and expertise. We visited a wide variety of schools in and around Stockholm, and one struck a chord as being a great model of how things could be different for Scotland.
Torbjorn Almquvist, the architect for the Ballingsnas School explained how his initial brief for the school, which accommodated 550 pupils from 5 to 15 years old, was contained within a single sheet of paper. The architectural team's challenge was to work with teachers and students to develop this brief and create a school which encapsulated the vision it contained. The school was state run, so in this sense was comparable with those we were designing in our own country, however what struck us was the freedom the children were afforded by the design, and the real sense of community which had been created within it.
Pupils of all ages socialised and played in the grounds behind the school. Different spaces had been created for quiet and noisy play, complemented by inspired physical play equipment rarely seen in our own playgrounds. The playground extended into woods at the top of the site where children could explore freely in their leisure time. Within the school itself, although the junior and senior classes were separate, areas had been created for reading, games, and performance, where all pupils could come together. Dining was mixed age, with even the smallest pupils responsible for clearing and setting their own tables, and staff seemed at ease with this approach to pupil freedom and movement, and even though this is instilled in Swedish children, there was little in the way of inappropriate behaviour observed.
This flexible and innovative approach to learning spaces promotes interaction. Across a wider Learning spectrum, it creates the inter-disciplinary collaboration which is at the heart of the 'curriculum' aspirations behind problem-based Learning. Ultimately, it also indicates a way of harnessing the growing importance of viewing our schools as a truly community-orientated resource; a 'hub' that can work with parents, business and other training partners to address the developing needs of that community.
What are the Main Challenges facing Scottish Schools and how are these best addressed?
There is often a conflict between the idea of a school being a place for transferring a body of knowledge, and education itself being an interactive process of transferring skills. If we can agree that pupils – simply due to their years – are yet not fully formed and need to learn skills that will prepare them for adult life or further education, then 'place of development' could be an alternative definition which is equally valid.
For generations, schools were institutions where children went to learn what might be termed purely 'academic' subjects, with the distinction between Grammar and High Schools clearly separating those destined for the professions, and white- and blue-collar jobs. Later developments saw the creation of vocational schools, where the focus for certain pupils was on learning skills which would allow them to take up an apprenticeship or go into full time work whilst others in their age group prepared for higher education at more academic establishments. This segregation of pupils into distinct and separate groups based on perceived or measured academic ability – often carried out at a very young age – seemed well intended at the time. But it represents an outmoded and dated attitude to child development which is unthinkable today. The number of adults denied the opportunity whilst at school now taking the chance to further their academic education as adults is testament to the fact that development is an ongoing process throughout life and should not be forced in one direction too early.
Many schools today have a written 'ethos' which sits at the heart of the vision for their school. In contrast to previous generations' perception of what a school is, most modern educators now acknowledge that their task is to produce well rounded and informed young adults – Confident Individuals, Successful Learners, Responsible Citizens, and Effective Contributors – able to face the life challenges that adulthood will throw at them. Teaching pupils to simply think, analyse and create is as important as helping them to pass exams at the end of the year.  Although an ingrained pressure to succeed academically is still brought to bear on teachers and many pupils, particularly where a school's perceived status is measured in its exam success. The production of Government 'League Tables' – based upon exams results – only reinforces this one-dimensional measure of success.
Creating the adults of the future is a responsibility shared by teachers and parents alike, and it is an onerous one. Schools are no longer simply there to teach children how to read, write, and pass exams leading to further education or work. Their role has expanded to include teaching global citizenship, social responsibility, and political awareness. In addition, educators have a responsibility to impart knowledge of sustainability and environmental issues, and health and wellbeing techniques which will help to form the well-rounded young adults today's society needs. Pupils face an increasingly uncertain world, where the security and certainty experienced by their parents is fast disappearing, and where a 'job for life' no longer exists.
Technological advances mean that many of the jobs young people will pursue in adult life do not exist during their time at school. The amount of knowledge available at pupils' fingertips far surpasses anything that could have been conceivable even ten years ago and is no longer contained in a series of textbooks or the school library. Harnessing and controlling this knowledge is a vast task for teacher and pupil alike and one which can overwhelm some but inspire many.
This encapsulates the struggle and challenge faced by teachers today; that of educating children not only in the required knowledge, but the skills to analyse, judge, discard, question and create solutions to the issues they face day to day and may do in the future. Whilst not the case for every subject, advances in science for example make some of the content in textbooks of ten or twenty years ago obsolete or even proved wrong within the last few years.  The pupil's powers of deduction and good judgment have become even more vital.
Many architects, when faced with an exciting new project, let their imaginations run wild and come up with ideas or solutions which are radical and very often received with a certain amount of suspicion and fear by teachers. The best architects are – at one and the same time – dreamers and pragmatic thinkers who can effectively listen to their clients and identify possible solutions to often intangible problems. Failing to discuss or at least consider these can result in missed opportunities and the same old solutions being produced.
The idea of 'experimenting' with children's education is often fiercely resisted, and yet pre-COVID, schools today were faced with regular curriculum and examination changes by local and national government which seem to do just that, sometimes with alarming regularity.  Many of the more progressive problem-based Learning ideas are developed in more independent schools, where teachers are less limited by regional – or even national – guidelines as to how they should deliver the education curriculum. Whilst this is understandable, it creates a situation where successes in new teaching methods or means of learning are not adopted by the wider school community, and potential good ideas are lost to the majority. Many forward-thinking schools, run by inspirational Head Teachers and enthusiastic staff, could benefit immensely from a long hard look – free from external influences – at how they teach, how pupils learn, and whether the design of their spaces is truly supporting both their current needs and addressing any future concerns.