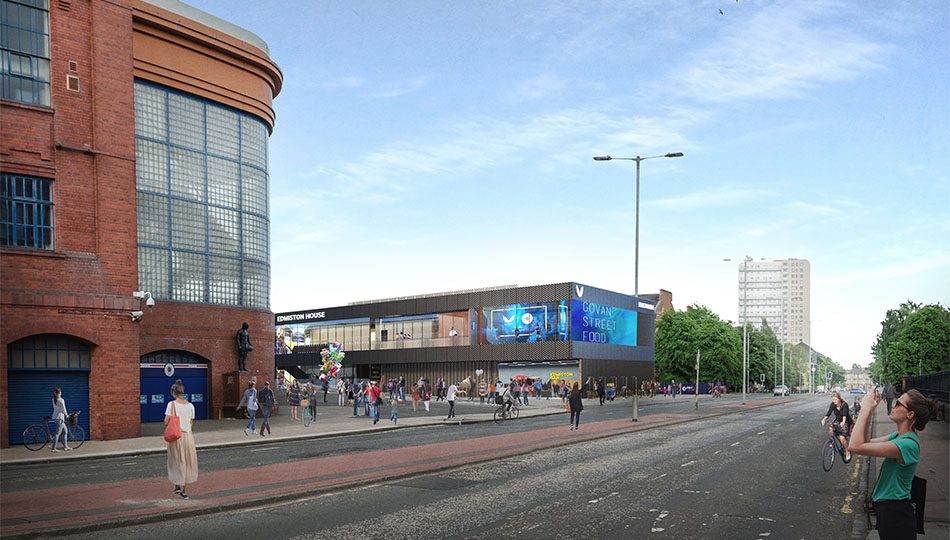 Keppie are delighted to have secured planning permission for Edmiston House – the centre piece to Project 2022, celebrating 150 years of the Ibrox Club.
The highly sustainable new building incorporating retail, museum, café and flexible events spaces, will provide vital amenity for the local community and a place to meet, greet and learn. It will become a focal point for families on match days, greatly enhancing the fan's experience, whilst providing an exciting, vibrant environment with pre and post-match entertainment. The flexible events space will also be able to host a wide variety of functions, conferences, exhibitions and live events.
Inspired by Govan's context and rich engineering heritage, a two-storey pavilion will replace the existing dilapidated structure. The new building will be neutrally expressed externally, welcoming and sensitively branded, whilst in keeping with its local context.
A welcoming new entrance space is defined by an impressive cantilever which projects out, providing a protected space for queuing, meeting or waiting. A large industrial door, synonymous with the shipyards along the Clyde, slides open beneath the canopy, unlocking the flexible events space; enabling activity to spill out onto the surrounding streetscape.

A double height entrance void with engineered feature stair leads to the first floor retail space, café and exciting museum beyond.
A fabricated skin of dark pre-oxidized copper, with profiled and expanded metal textures is intended to create a close connection to its Govan shipyard context; an inherently Govan building, gritty and proud.
The building achieves a 38% reduction in CO2 emissions under current regulations and has been developed with emissions and embodied carbon in the forefront of the mind – 400m² of photovoltaics line the roofscape whilst rainwater harvesting collects and recycles. The fabric first approach ensures that the building is orientated appropriately with openings minimised to the south and east, limiting heat gain and recyclable content is very high within the copper façade, build-up and materials utilised within.
Project Architect Fraser Davie says:
'Keppie are very proud to be working with Rangers Football Club on this transformational project, providing a greatly improved pre and post-match fan experience, along with a community facility which will provide much needed amenity to the surrounding area. With my mother growing up in Govan, and once working in the old Edmiston House, this has been an incredibly humbling experience and feel very fortunate to be helping Rangers to shape their vision'.
Location:  Edmiston Drive, Glasgow
Type of project: Public
Client: Rangers Football Club
Project Manager: Turner & Townsend
Architect: Keppie
Structural Engineer: Woolgar Hunter
M&E: Atelier 10
QS: Hardies
CDM adviser: Hollis Global