Client
Dundee City Council
Contact
Merrill Smith (Head of Corporate Communications & Policy, Dundee City Council)
Dates
2013
Value
£30m
Status
Speculative
"Keppie was instrumental in helping Dundee succeed in getting to the final round of the bidding process for the Scottish National Performance Centre for Sport. Their expertise in navigating the competition process was invaluable to us. Our final submission perfectly complemented the exceptional location in Dundee's premier mature country park and also exceeded the aspiration of all who had a stake in the project. It was a very practical design but one that still retained a wow factor. Keppie's commitment and enthusiasm was infectious and helped us get through a complex process which was new to all on the Dundee City Council Steering Group."
Merrill Smith, Head of Corporate Communications & Policy, Dundee City Council
developing sporting self-confidence and achievement
Used properly, sport is a symbol of national identity and pride; of culture, ideology and politics. Its greatest achievements often define us, and its unpredictability can leave us questioning the hierarchy of our place in the world. Sporting success is often a barometer of all these facets of our sense of self. If this in doubt, think back to 2012 when the positive energy of the London Olympics Games galvanised the UK, and then compare that to the subsequent years of widespread division.
The significance of this palpable energy inevitable results in a determination to harness it, transforming it into a legacy which contributes to – and often directly influences – people's quality of life. Whether as participants or observers, sporting success at the highest level can often be the high watermark of people's lives. From Archie Gemmill's unforgettable goal against Holland in 1978; to David Sole's inspirational march down the tunnel to Grand Slam glory in 1990, and right up to Andy Murray's first Wimbledon title in 2013 … all are now a unique part of the Scottish psyche and are rightly ingrained in our national folklore.
The importance of the decision to create a National Performance Centre for Sport in Scotland cannot be underestimated. Similarly, the responsibility for building on the legacy was one we took extremely seriously for this project. As a national centre, the ambition was to develop sporting self-confidence and achievement such that many more moments like those above become the expectation rather than the exception.
Our design for The Scottish National Performance Centre for Sport at Camperdown was set in an uncommonly beautiful location; an expansive green parkland with a quiet and relaxed environment, but close to the city centre of Dundee. Our proposal sought to harness this natural beauty whilst recognising that by placing any built structure there, its character would inevitably change. The site and its approach are breath-taking, and it provided the stimulus for a design which works with the topography to create synergy between building and landscaped context.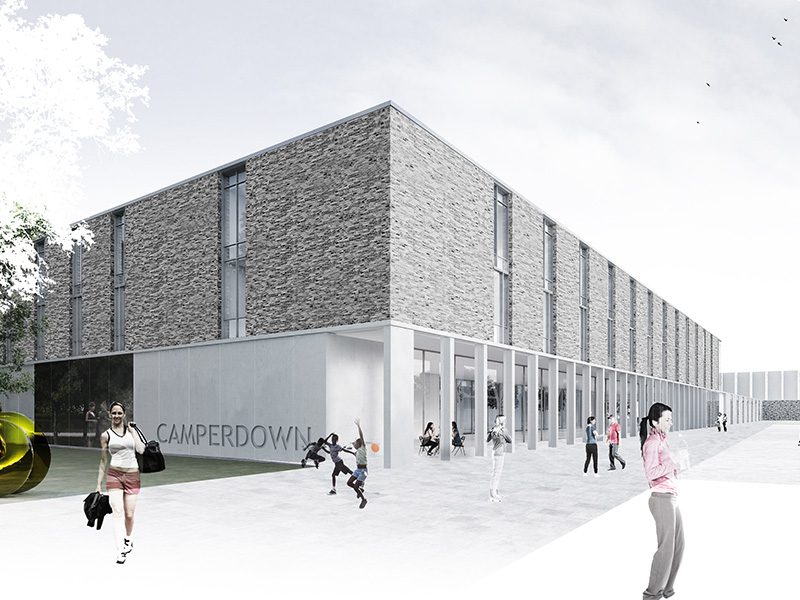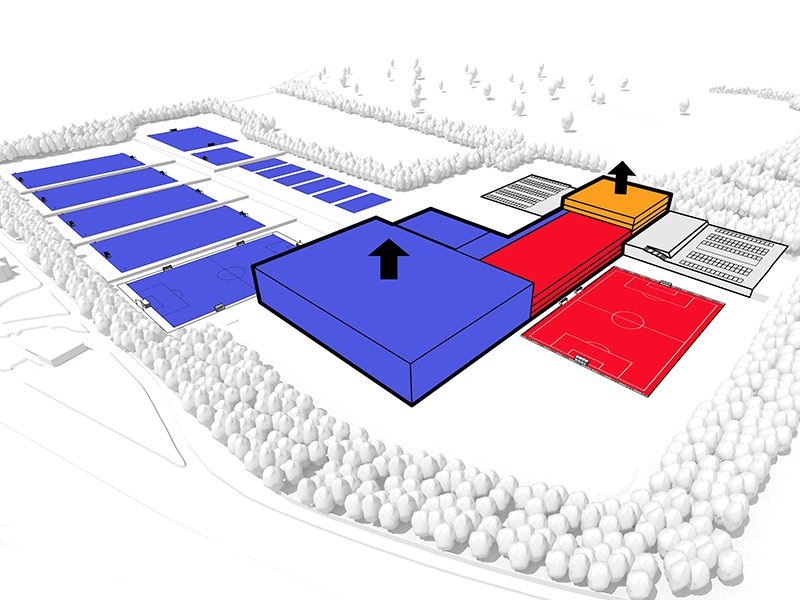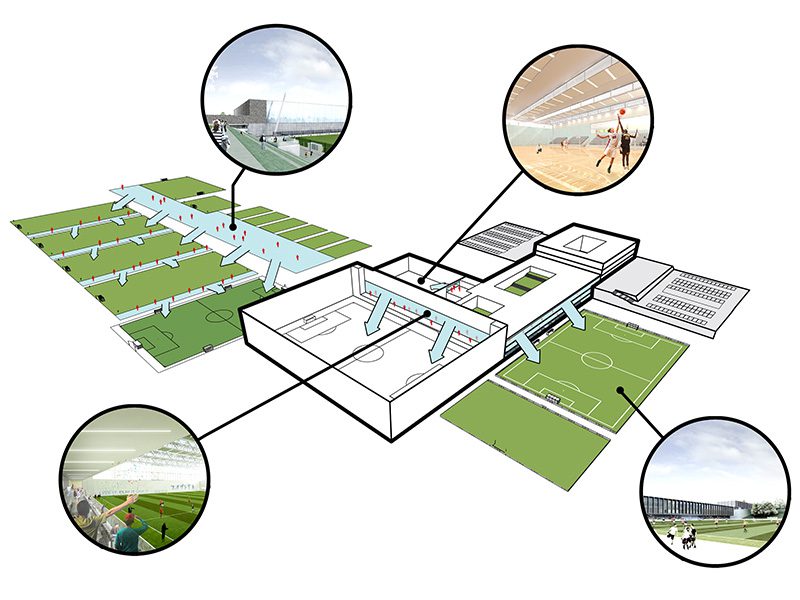 The concept of our design is about connection and observation. There are complex relationships and requirements for the briefing and operation of a National Elite Sports facility. Our design for the building simplified these to allow the needs of Elite Performance and Coaching Development to co-exist with a wider community aspiration. The principal device for achieving this was a central street running adjacent to an open courtyard. The street separated the Elite Performance parts of the facility but allowed all parts to feel equally important and to function simultaneously.
Observation is a vital part of sporting development and the design promoted a very high level of this, both internally and externally. We felt it was important that such a significant national asset had an architectural language which was timeless. The aesthetics and the refined articulation of the form achieved this. Since its legacy in terms of sporting achievement would be felt in the generations to come, its design should remain fresh and inspirational.
Against a backdrop of profile raising in the media and preoccupation with celebrity endorsement, Dundee's bid was steeped in the foundation of a broad and highly cohesive partnership approach. It represented a significant part of a journey of regeneration for the city and its residents which continues to this day. Our submission to locate the new National Performance Centre for Sport at Camperdown was therefore, overwhelmingly, a 'People's' bid.