Client
Royal Dornoch Golf Club
Contact
Neil Hampton (RDGC General Manager)
Dates
2022
Value
£6.5m
Area
2000 sqm
Status
In Design
Sectors
Expertise
Team
"Since appointing Keppie we have all enjoyed the relationship that has been created with them, and the other members of the design team that they have chosen for this project. All in Keppie who are working on our project are professional, reliable and attentive in all the contact we have had with them, and the personal contact during meetings and site visits has been relaxed and efficient. Currently we are in detailed design of the internal layouts during which many staff from the golf club have been involved along the club project team. Keppie have been very receptive to the feedback and are not precious about any aspects of the design, choosing to listen, reply and offer reasons, alternatives or agreement with all suggestions given."
Neil Hampton, General Manager, Royal Dornoch Golf Club
sensitive redevelopment of prestigious clubhouse
Following an extensive national design competition, Keppie won the commission to design the new clubhouse for the world renowned Royal Dornoch Golf Club. Although Royal Dornoch has never hosted any of the major professional tournaments, the Championship Course is regularly considered to be one of the best in the World – 2nd place according to renowned Golf Digest Top 100 list. David Brice of Golf International called it 'the king of Scottish links courses.' Even the non-golfers amongst our team were acutely aware of the significance of securing this project.
Expenses covering the cost of a young aristocrat's golf clubs in 1616 have provided the earliest evidence so far of the sport's presence in Dornoch. The current golf club was established 143 years ago in 1877 and was awarded its royal status in 1906 By King Edward VII. The design of the Championship Course is attributed to Old Tom Morris.
Multiple major winner Tom Watson – an honorary member of Royal Dornoch – infamously recalls a round stating, "It's the most fun I've had on a golf course." It is no wonder considering its beautifully raw dunescape, naturally nestled holes, and fascinating history that makes golfers from around the world flock to this sacred golfing ground.
Our initial approach was not to produce a design but to propose five specific themes for the project. These themes could be investigated with the club's members in order to establish where the priorities of such a large number of often diverse opinions lay. The themes we developed our ideas around were:
Heritage
Arrival & Anticipation
Journey & Movement
Concealing & Revealing Views
Identity
Keppie have now secured planning permission for the new Clubhouse which sits sensitively within its historic local context whilst providing a surprising and welcoming internal environment for members, visitors and community alike.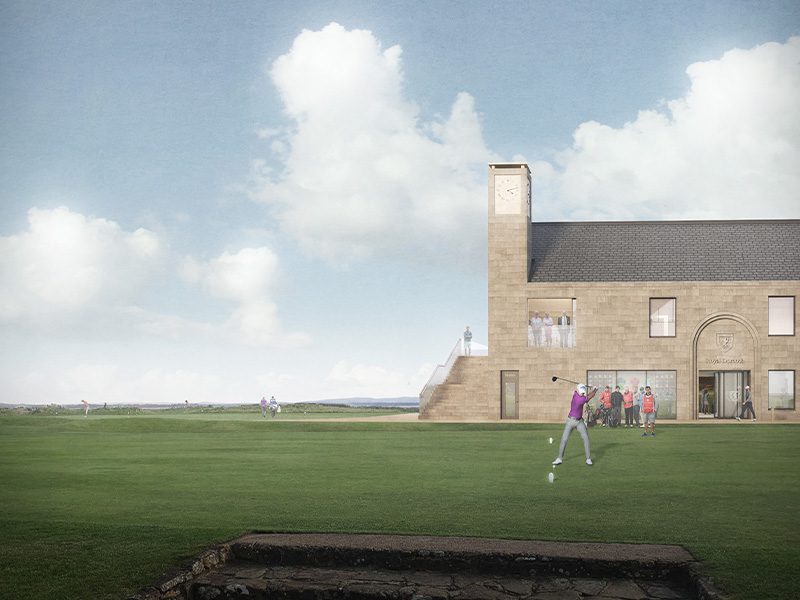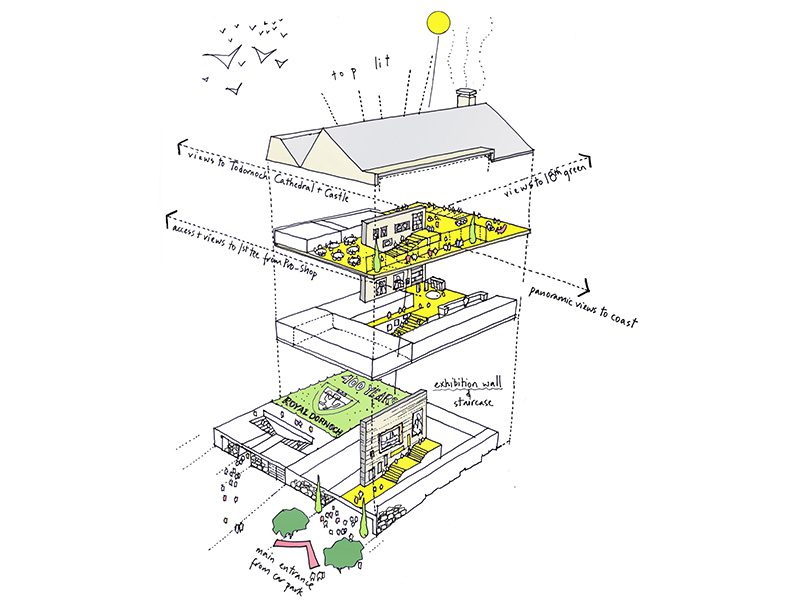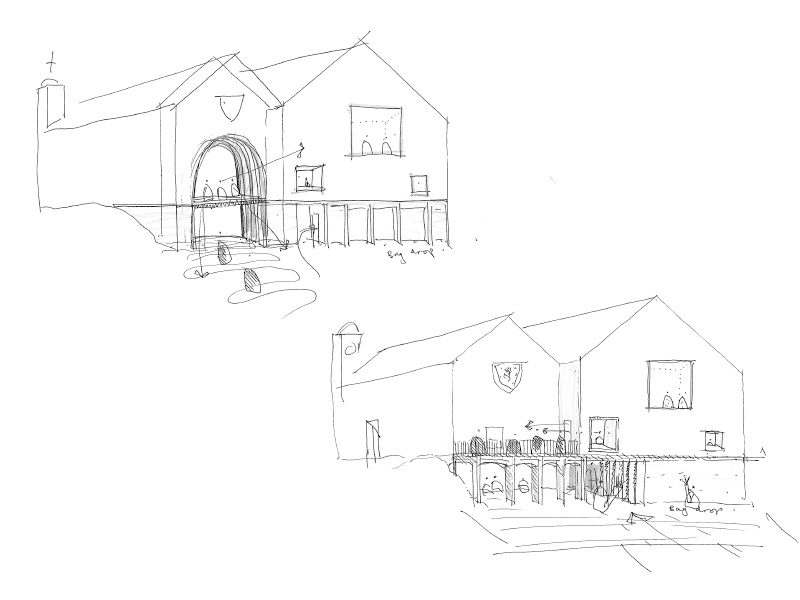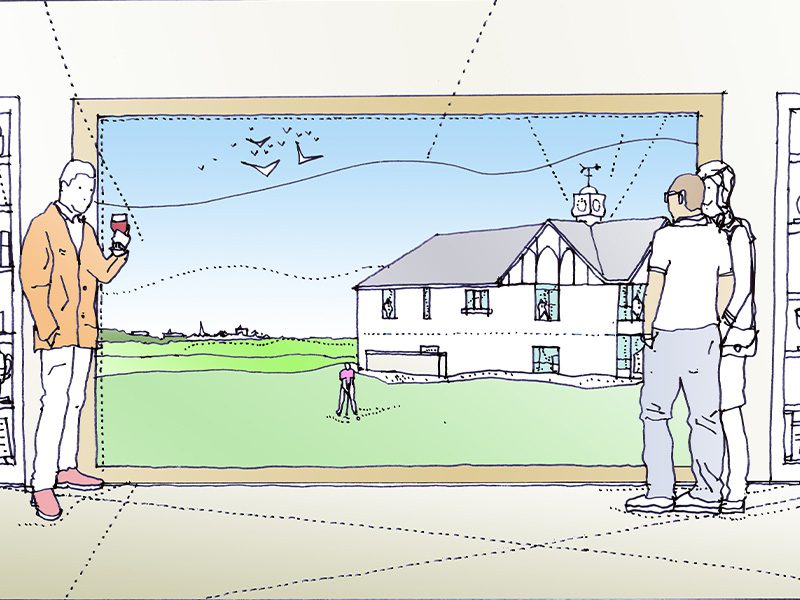 From winning the project commission the Keppie team were clear that a coordinated architecture/interior solution was in the Client's best interest. Whilst a strong building concept had developed over three levels it was important to us that 'user experience' was to the fore at all stages of the internal planning. Where the original accommodation schedule defined areas, our interior design specialists interrogated each through space-planning studies resulting in numerous efficiencies to back-of-house allowing area growth where members and visitors 'experience' would most benefit.
Running through the building is the top-lit stairway, bounded on one side by a grand exhibition 'spine-wall' – a richly coloured wall punctuated by the main accommodation connections, framed in stone plus randomly arrayed white oak framed boxes displaying club artefacts and trophies. These arrange around the gently rising stair making the user journey both dramatic and informative. Around the central stairway circulation and dwell areas sit adjacent encouraging a range of viewing opportunities back to the spine-wall and gallery areas. Internal planning sets a highly organised arrangement structure to support obvious connections to luxurious change spaces, a bustling pro-shop and the world-famous courses for players.
At the climax of the users journey the principle social spaces are arranged – Formal dining, Bar/Restaurant and Informal lounge spaces all connect to the spectacular course and coastline vistas as well as views back to the town itself. These will be spectacular spaces of varying volumes each with a striking locally inspired material palette. A truly all year-round collection of spaces designed to be highly adaptable to large community events as well as suitably scaled to maximise member and visitor experiences though the long light summer days, as well as offering a hospitable welcome around the central fire for those hardy winter golfers.
The new clubhouse is scheduled to be complete by 2022.