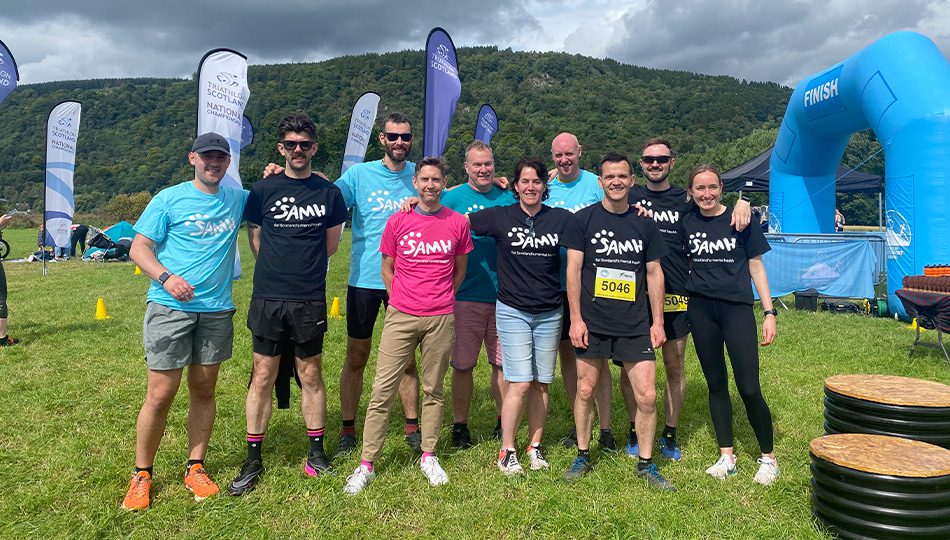 On Sunday 20th August, 4 triathlon relay teams from Keppie completed the 1.9km swim, the 90km bike ride and the 21km run, competing against some of Scotland's top triathlon athletes.
We teamed up with our charity partner the Scottish Association for Mental Health (SAMH) at the start of 2023, and have taken on various challenges including a 5k around the Kelpies and the MacTuff Summer Challenge 2023, however the Aberfeldy Middle Distance Triathlon saw our Keppie volunteers take on what was the furthest and most physically demanding challenge this year!
SAMH champions the needs of young people and adults who experience mental health problems. They seek to develop community-based services across Scotland. Focusing on anti-stigma, anti-bullying, suicide prevention, and sport and physical activity, they campaign to further policy that prioritises equality, dignity, respect, hope, choice, and personal achievement for every person in Scotland.
Summary of the Day
Thankfully, after the wet and drizzly conditions of the previous day when the registration and briefing took place, the rain decided to stay off for race day! After a 5am alarm, our athletes woke to calmer weather, with a beautiful sunrise over the bay of Loch Tay.
After the initial set up, where our cyclists racked their bikes at the T1 transition pen, in preparation of the quick swap of timing chips, we gathered on the start line to see the first set of swimmers set off at 6.45am on the shores of Kenmore.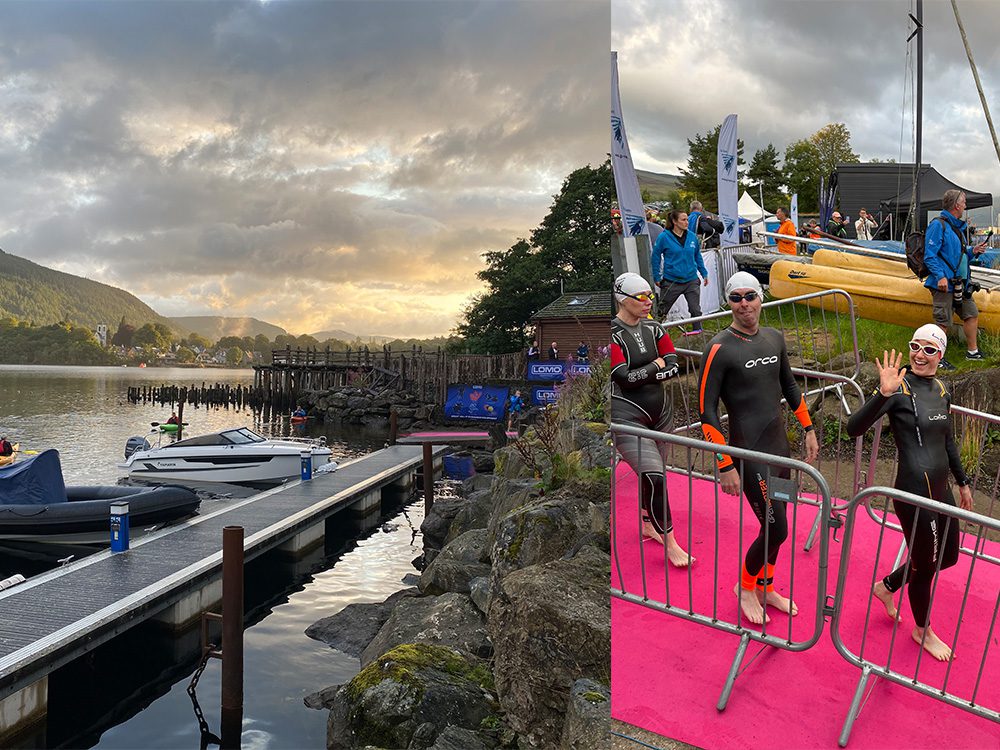 From the shore, the orange buoys looked particularly far away for our swimmers! Whilst the gleaming sun looked pretty for onlookers, it made the turning buoy going east particularly difficult to see for those in the water! All 4 of our swimmers came out to a short run to the relay pen (whilst trying to wrestle with getting their wetsuit off – which needed to be done before the timing chip could be passed on – a challenge in itself!), and then it was time for the cyclists to set off.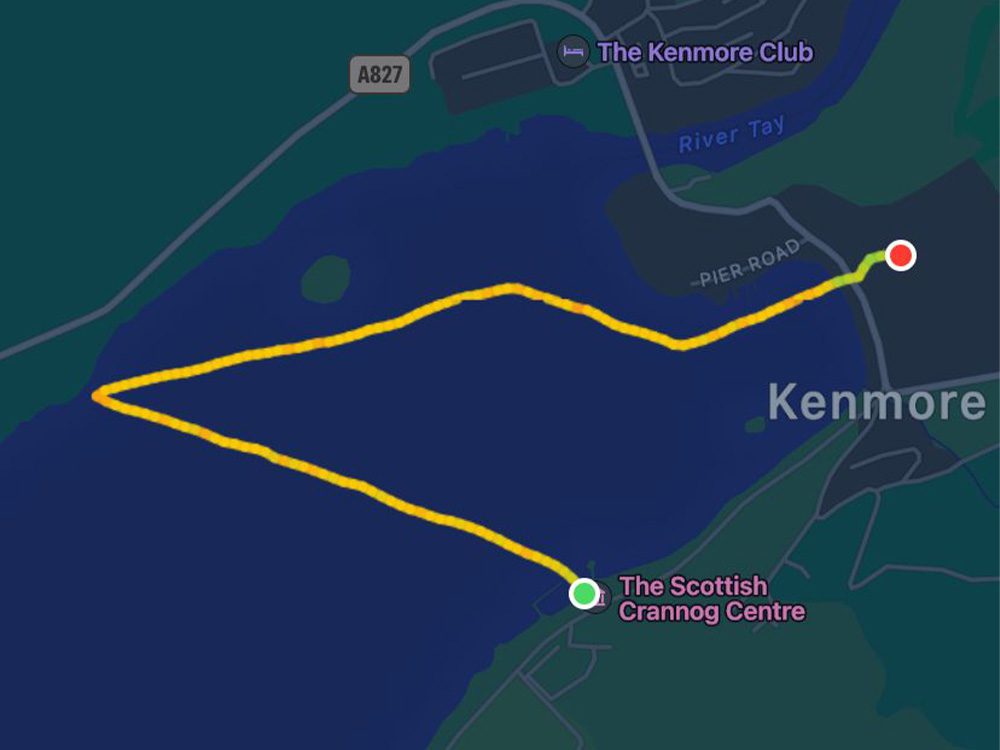 After having waited the 30-40 minutes with butterflies in their stomachs, it was their time to peddle up the mighty Shachallion, just a few kilometres after our cyclists started, the challenge already took them straight up the hill!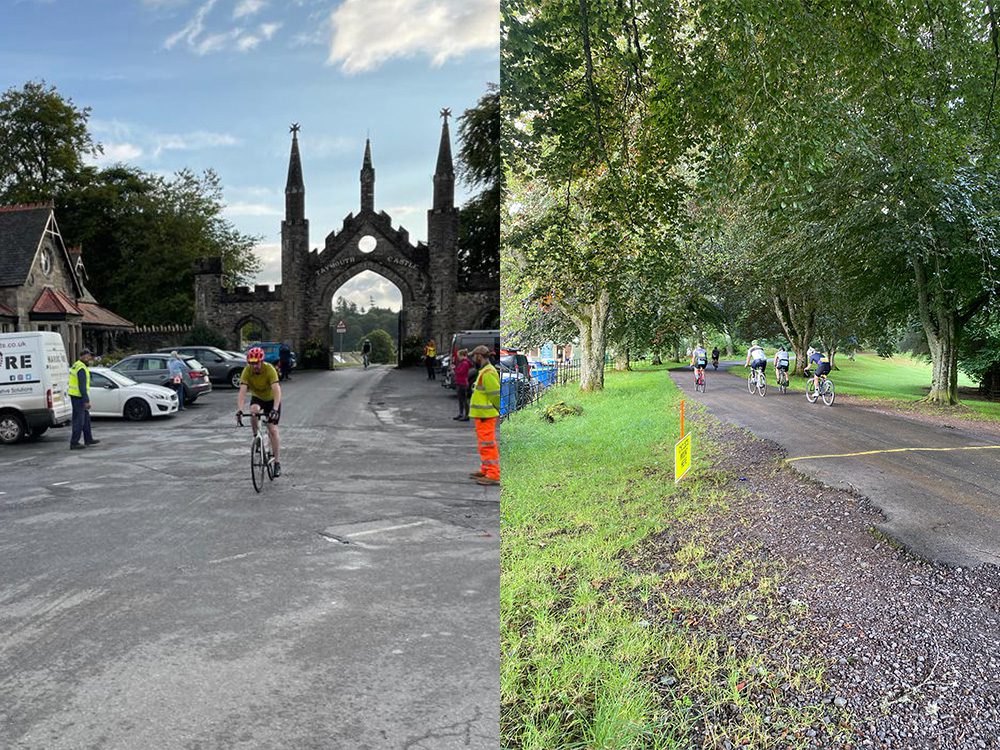 The cyclist's ascent and descent on Shachallion, was the longest part in the day for the rest of us, as we waited for our 4 cycle champions to complete the full 90km. Our swimmers, runners and spectators waited in Aberfeldy by the T2 transition area/pen. This transition was the quickest yet and set the runners off on the final sprint of the day's journey –with the finish line only 21km away!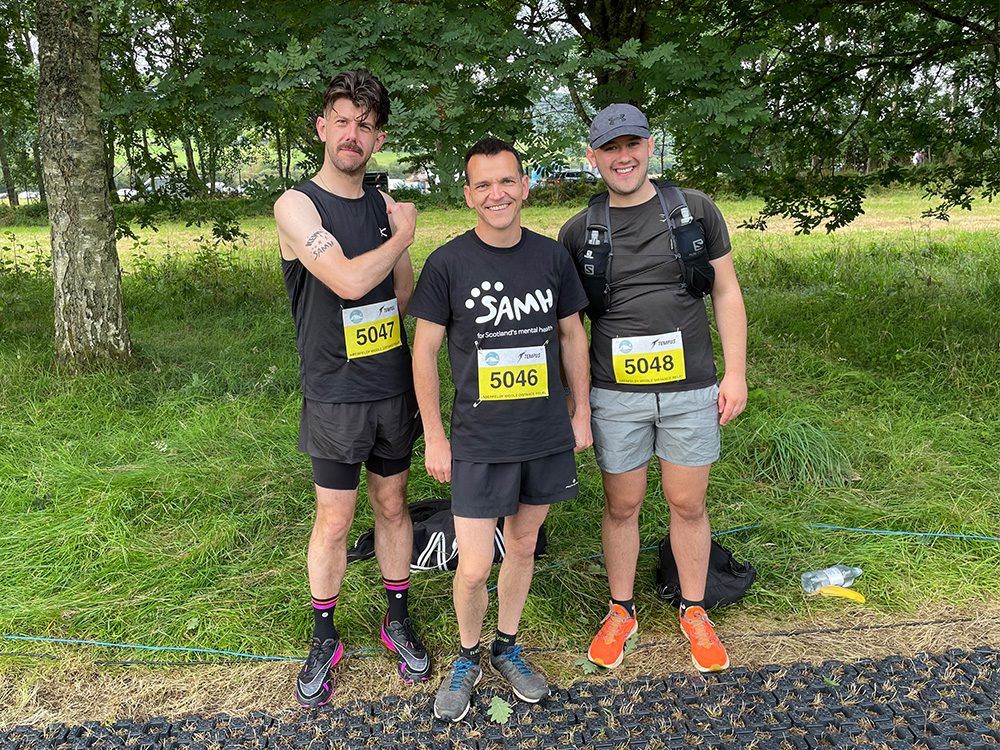 We gathered by the finish line to see some of the triathletes and relay teams come across one by one, happy, exhausted but with a look of accomplishment on each person's face!
One of our architects' Ester Coma, who has previously taken part in the Aberfeldy Triathlon, organised all 4 teams from sign up to the finish line.
Ester said 'What a brilliant day of racing and camaraderie we had at the Aberfeldy Middle Distance Triathlon. All 4 Keppie teams crossed the finish line with big smiles and a great sense of achievement, which was great to see, and to top it all out we got on the podium for the mixed relay team in 3rd place and the male teams in 2nd and 3rd places! This was the first time Keppie has tackled the Aberfeldy Middle Distance Triathlon and coming up with a total of 4 relay teams was just amazing. Hopefully, these athletes will inspire other Keppie members to put their names down for next year!'
It was Ester's team, along with Luke Thurman (cycle) and Neil Whatley (run) that came third for the mixed relay team overall, with a fantastic time of 04:55:48 – an impressive performance!
We had one man who decided to complete not one, but TWO parts of the triathlon (cycling and running), Andrew Strachan, who along with David Richards completed it in an impressive 05:34:46, coming 2nd in the overall men's relay team, with another Keppie team made up of Grant Russell-Jackson, Jamie Laurence and Sean Cliens coming in a respectable 3rd place. Martha Andrews, Alistair Braid and Gordon Watson also managed to complete the course in 06:05:11, just missing out on another mixed relay award! Overall, the day was expertly organised by Aberfeldy Multisport Festival team, and we were kept well fed and served excellent coffee by our friends at Coull Beans!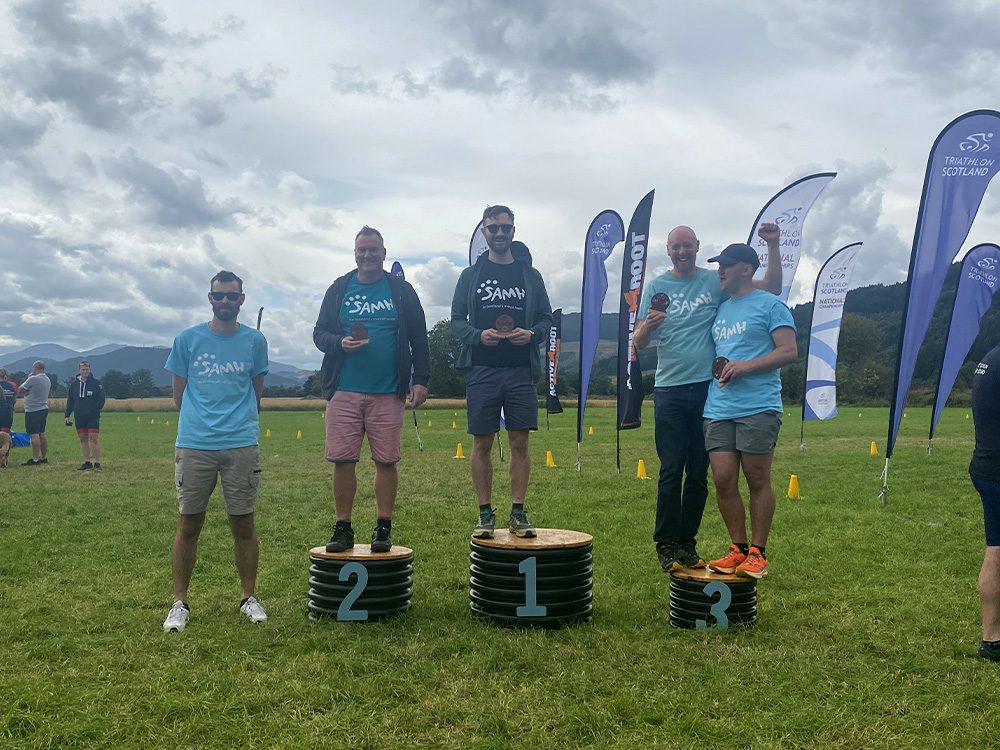 Amount Raised
So far, the Aberfeldy athletes have raised over £2900 for SAMH, nearly doubling our target of £1500!
Recent Public Health Scotland figures show that 1 in 5 adults wait more than 18 weeks for help and almost 1 in 4 young people are turned away when they need help.
SAMH have been here for over 100 years and continue to bridge that gap to help Scotland's adults and young people with their mental health. £20 could fund their work in preventing suicide by delivering intervention training, vital research and creating information.
If you wish to support the team raise funds for SAMH and find out more about the work they do, please visit our JustGiving page.