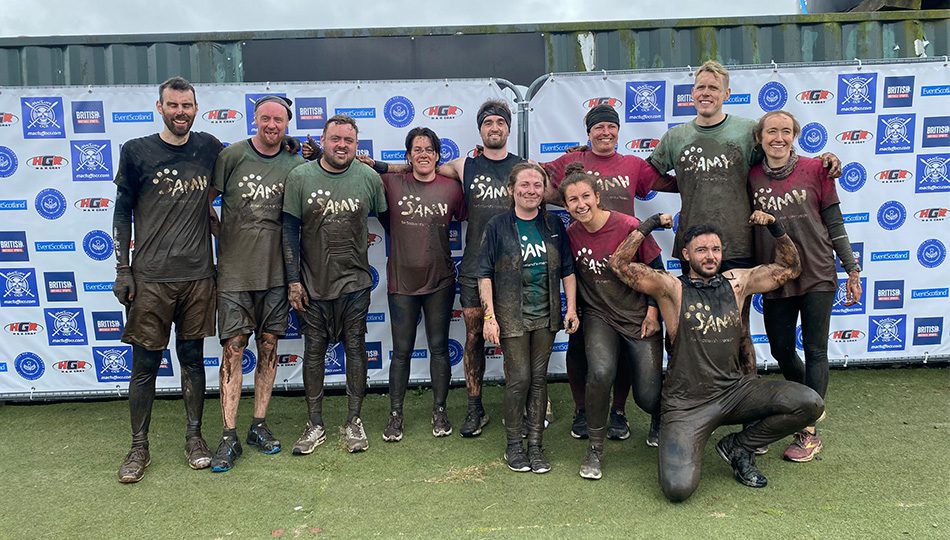 On Sunday 7th May, arriving at 9.30am at the Knockhill Racing Circuit in Dunfermline, our group of 11 strong and raring to go Keppie Team put on our armour of lycra, waterproofs and SAMH T-shirts, to take on the ultimate mission; MacTuff Scotland Summer Challenge 2023, to show if we really are 'MacTuff' enough.
The rain fortunately stayed off as the starting line's atmosphere was a combination of nerves and excitement, soundtracked by the Scottish Pipe Band who worked their way through the crowd. Once we were supplied with multicoloured flares, the sound of bagpipes and a group countdown to set us on our way, the challenge began.
Over the next 2.5 hours we worked our way through the deep mud, grass, moss, stinging nettles and swam through bogs and ditches on uneven terrain. The obstacles faced by the team were high wooden fences, monkey bars and crawling through barbed wire, netting, and dark tunnels, all in a race to the finish line. Every time you thought it was nearly over and the end was in sight, another obstacle appeared in what was the longest 7k ever (our smartwatches would later tell us it was far longer!).










One thing that did shine through was the collective team effort it took to get all 11 of us over the finish line. We completed it as Team Keppie, with a sense of relief and accomplishment, and completely covered head-to-toe in mud. Fortunately, all of us managed to complete the event with both shoes still on our feet; others weren't so lucky!
This was our latest challenge to raise money for the Scottish Association for Mental Health (SAMH). Each of us were challenged to raise at least £50 from our friends and family, to help support the work that SAMH do throughout Scotland. Just £10 a month could help fund programmes to ensure there are no barriers to engaging, participating, and achieving in physical activity and sport, something that we felt by the end of this challenge was extremely valuable in benefiting our own mental health too.
If you would like to support our efforts in raising money to help support SAMH and to find out more about the work they do, please visit our dedicated charity JustGiving page.