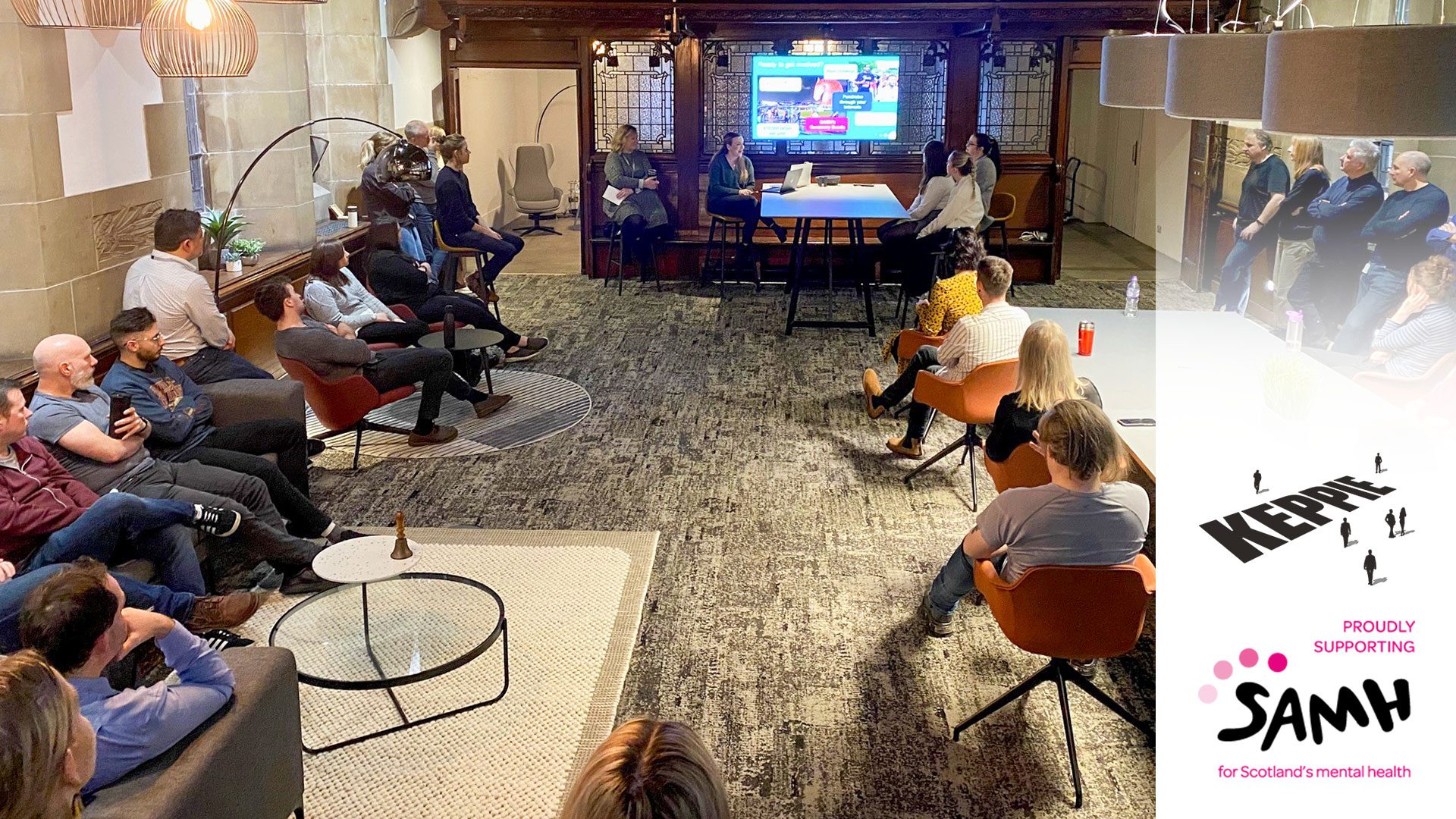 Keppie Design are delighted to announce our chosen charity for 2023 and 2024 is 'The Scottish Association for Mental Health (SAMH)'.
SAMH have been around since 1923 and they work with various communities throughout Scotland to tackle the increasing need for mental health support and wellbeing. 1 in 4 people will experience a mental health related issue, such as anxiety or depression in their lifetime, and since the pandemic, SAMH's information service saw a 50% increase in demand. The Keppie Team recognise how vital mental health services are and we are pleased to announce SAMH as our new charity partner.
SAMH focus on helping those with mental health problems to better understand them. They promote self-help and wellbeing and provide useful information on how you can help someone you care about with a mental health problem, with a focus on suicide prevention. They aim to end the stigma and discrimination surrounding mental health difficulties. SAMH support a range of communities from homelessness, addictions, housing support, care homes, supported accommodation, employment and many more people throughout Scotland.
For more information on the work that they do, or if they can help you or someone you care about with a mental health problem, please visit their website: www.samh.org.uk.
WHAT WE ARE DOING
Our goal over the next two years is to support the valuable work that SAMH do to improve lives and mental health support across the whole of Scotland. £20 gives SAMH time to listen and talk to someone who is struggling to cope. We want to be able to help aid SAMH to reach further people who will be able to access this help, which is so vitally needed!
We all have mental health, in the same way as we all have physical health. As SAMH focuses on active living, we at Keppie felt it was important to do this ourselves and have chosen fundraising challenges that promote and encourage everyone to engage in physical activity. As for our mental health, we recently ran a "Time to Talk Day" on 2nd February, which saw us make space in our day to talk and listen to each other and break down myths and barriers surrounding mental health.
To get us started, we have already begun our annual Keppie step challenge 10,000 steps per day between 16th January and 26th February. All raised funds will go directly to SAMH. We will see who gets crowned the winner and who fails to 'step up' to the challenge!
Next up on the calendar is our Valentine's Day Bake sale, which has turned into a rather competitive event that even Mary Berry would be proud of! We have a competition running to find out who is our star baker in the Keppie team, and who ends up with a soggy bottom. On your mark, get set, BAKE!
This is followed by our super exciting Keppie at the Kelpies on Friday 17th March. We will be taking part in their Supernova 5K, bringing along friends and family, putting on our fluorescent clothing and neon lights to run alongside the largest equine sculptures in the world! You can sponsor us by visiting our dedicated JustGiving charity page
We have ample ideas and fundraising activities planned and being pencilled into our diary, so watch this space! We will be regularly updating our socials with this, so make sure to follow us on Instagram, Twitter and Facebook for regular updates.