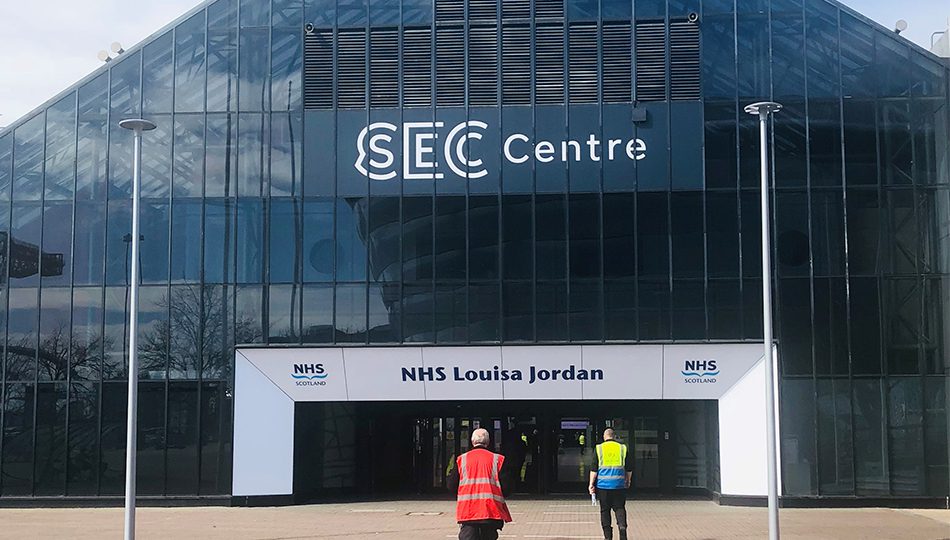 Our practice has designed hospitals since the inception of the NHS in the early 50s. Keppie personnel are currently involved in every facet of healthcare design and delivery, domestically and internationally. We're always asked to consider the flexibility of the facilities for future change and demand. But never more has our expertise been so vital than in the current initiative to prepare the Scottish Event Campus for a temporary life; rapidly transformed into a field hospital to be known as the NHS Louisa Jordan Hospital.
The days and nights that have passed since Keppie became involved in this unique and unusual project have been simultaneously exhausting, challenging, inspiring, and enthralling. We've witnessed an industry that talks a lot about the importance of team working – of multi-discipline and contractor collaboration – put that into immediate, unquestioning and trusting practice. Every cog and spoke of the wheel operating in sync to ensure it keeps turning and rolling towards its goal: the provision of a fully operational hospital capable of caring for over 1000 patients created from scratch in less than three weeks.
Although we are hugely proud to have watched our initial scribbles composed on sketch pads and i-pads turn into physical manifestations almost overnight, this has only been possible as a result of the dedication and commitment of every person involved. From the fantastic SEC staff making their facilities and resources available to everyone at all times of the day, to those of the design and construction industry we are equally proud to be a part of. But perhaps most notable is the NHS staff themselves. Their adaptability and resilience leaves us in constant awe. When we emerge from this crisis their unstinting contribution and value to society must be far better recognised than it has been.
Everyone involved in this remarkable project dearly hopes that it will not be needed, and that the measures already put in place by the Government ensure that our existing NHS personnel and our existing hospitals aren't stretched beyond capacity. But if it is required, the NHS Louisa Jordan Hospital will be primed and ready; its patients being cared for by some of the most exceptional people we've come across in our time as healthcare specialists.